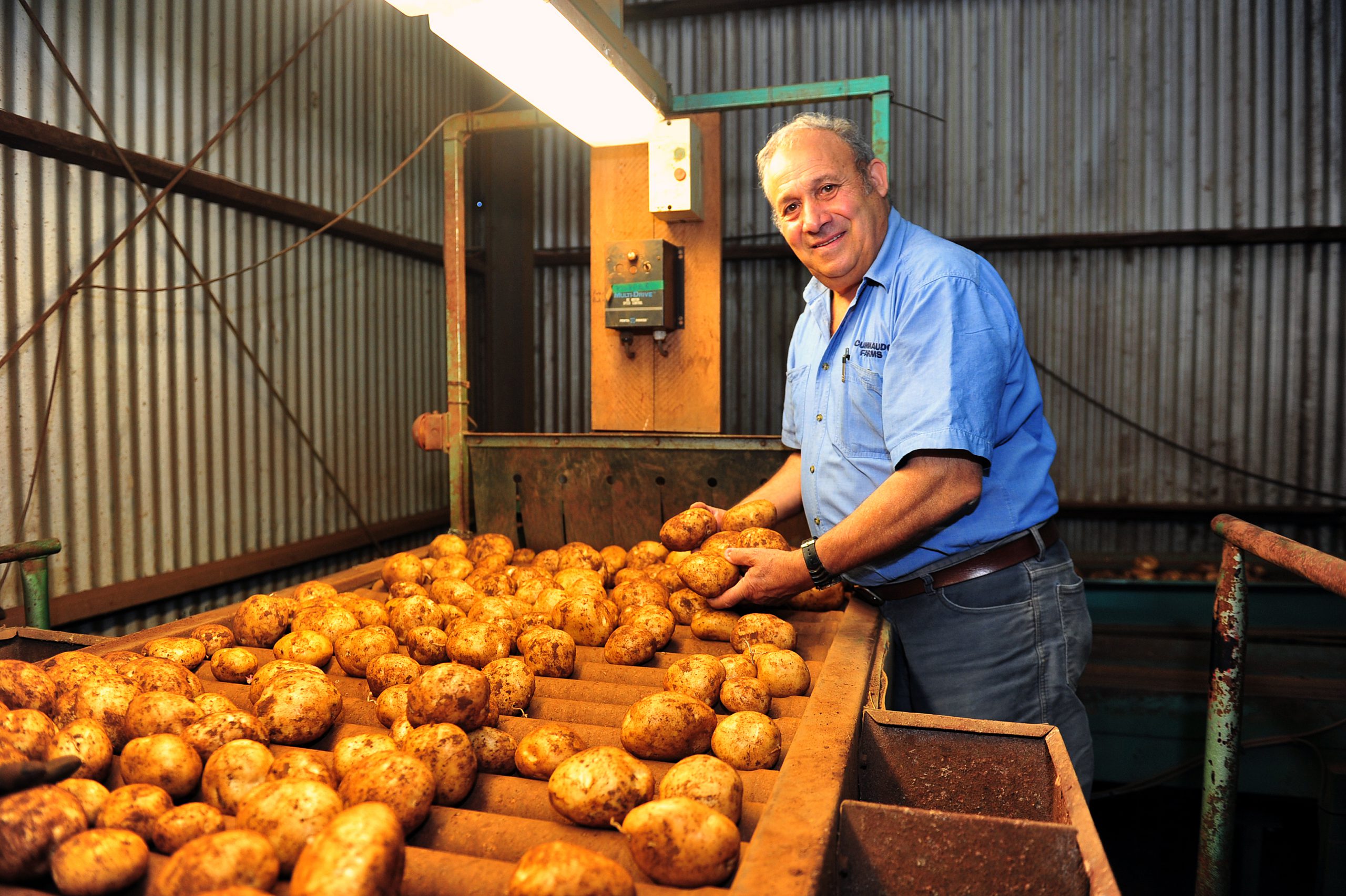 TOM Cummaudo's recipe for success is no secret; the Mirboo North resident and potato farmer swears by hard work and long hours.
Having kept his eye on the prize since his youth, Mr Cummaudo has worked consistently and diligently to achieve success since he arrived in Australia from Sicily 60 years ago, on 19 March 1953.
"I've told my sons, if you want to get anywhere you need to put in 12-hour days; you won't get anywhere with eight hours a day (at work)," Mr Cummaudo said.
The spry 69 year-old, who owns and oversees the sales of the 1200-acre Cummaudo Farms potato farm nestled between Mirboo North and Thorpdale, is up by 6am and will often work until 9.30pm.
"I worked 18 hours a day for a few years," he said.
"I would do the market run, driving to Melbourne and back, and then come back to do the farm work."
Today, the farm is run by three generations of Cummaudos and sells a majority of its produce to supermarket giant Coles; the farm produces approximately 8000 tonnes of potatoes per year.
However, Mr Cummaudo does not take things for granted and is mindful of the changing weather conditions and pricing.
"Potatoes are a big gamble, and always have been," he said.
"There are some good years and some bad years."
But it was a good year of potato growth which got Mr Cummaudo off on the right foot at the tender age of 16.
With a gift of two horses from his father, a young Tom Cummaudo leased 20 acres of land in Boolarra South to begin his own farming venture.
With luck and hard work, he made 1000 in his first year, and then moved to lease a further 65 acres of land in Thorpdale at just 17 years old.
Now, with his two sons and two eldest grandchildren assisting him in running his business, Mr Cummaudo still has no plans to slow down.
"We will probably expand (the farm) some more," he said.
"We have another 10 kilometres on either side (of the current site)."
With three telephones in front of him as well as an assortment of log books, Mr Cummaudo acknowledged his style was "old-school", and said he was still involved in running the farm.
"I'm still fit; I'll keep going," he said.
He hopes to one day return to Europe; he last visited his hometown in Sicily 16 years ago, but admitted he felt like "a stranger" there.
"I still have some cousins there, but Australia is home," Mr Cummaudo said, adding he still remembered parts of his journey to the lucky country by boat six decades ago.
"I came with my mum, two sisters and brother… I remember the boat going up and down," he said, of the 26-day journey.
Mr Cummaudo hoped to see his sons Sam and Tony, and grandchildren Gaetano and Mariska who both completed their "potato shed apprenticeship" continue to grow the business into the future.
And despite being around potatoes all the time, Mr Cummaudo said he would eat his favourite potato dishes – roast and mashed potatoes – every second day.