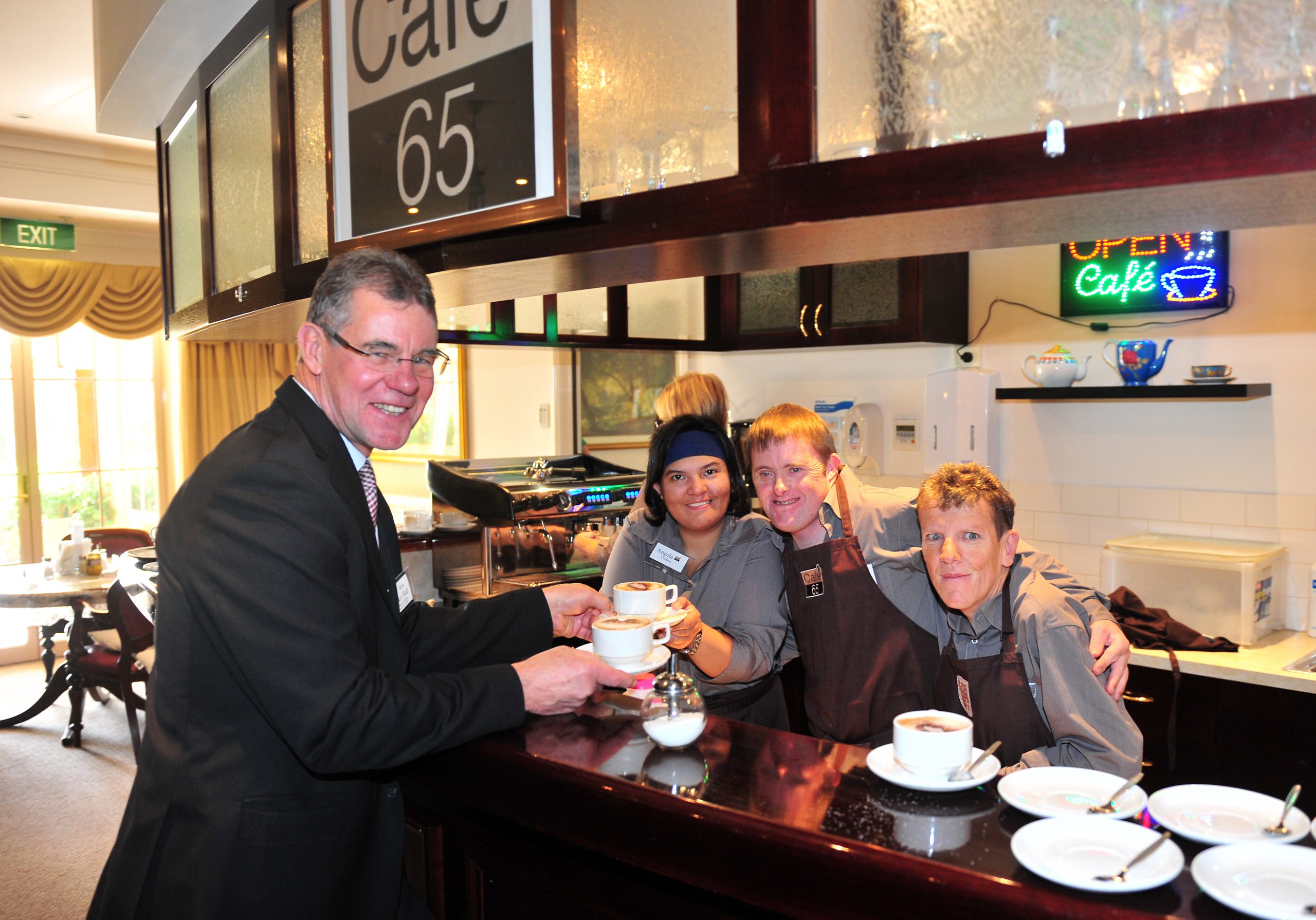 Moe Life Skills learners are boosting their skills and making new friends while serving coffees to aged care residents at Cafe 65.
The coffee bar was officially opened at Narracan Gardens Newborough late last month by Higher Education and Skills Minister Peter Hall, but had been open to residents and the public every Wednesday since mid-January.
Moe Life Skills chief executive Carole Broxham said the cafe was a joint project between adult education provider Moe Life Skills, Narracan Gardens and asset management company Mecrus to improve learning, training and employment opportunities for people with disabilities.
"It's a training cafe, but it has many spin-off benefits; the residents here get to interact with members of the public who come in for a coffee and the whole community benefits from a greater understanding of what people with disabilities are capable of," Ms Broxham said.
"This is working to change community perspective about what is possible because this cafe is just like any other. It's getting the community to realise that people with a disability are far more similar than different."
Life Skills learner John said he enjoyed making coffees, with hot chocolates his drink of choice, and looked forward to getting a job through this experience.
Narracan Gardens resident and regular Cafe 65 patron Hazel Rodgers said the coffees were cheaper, but "every bit as nice" as lattes she bought elsewhere.
"Their attitude encourages us to come back each time. I think it's lovely that we've got it and I hope it stays," Ms Rodgers said.
Narracan Gardens manager Jayne Linton said the cafe had been increasing in popularity since it opened with relatives starting to time visits so they could enjoy a coffee with the residents.
"We have a private dining room open for community groups to meet and they have been scheduling their meetings for Wednesdays as well," Ms Linton said.
Before cutting the ribbon to open the cafe Mr Hall congratulated all involved and said he was pleased the State Government could facilitate the project with its $42,000 contribution.
The cafe is open 10am to 3pm Wednesdays at Narracan Gardens Hostel, 17 Amaroo Way, Newborough.