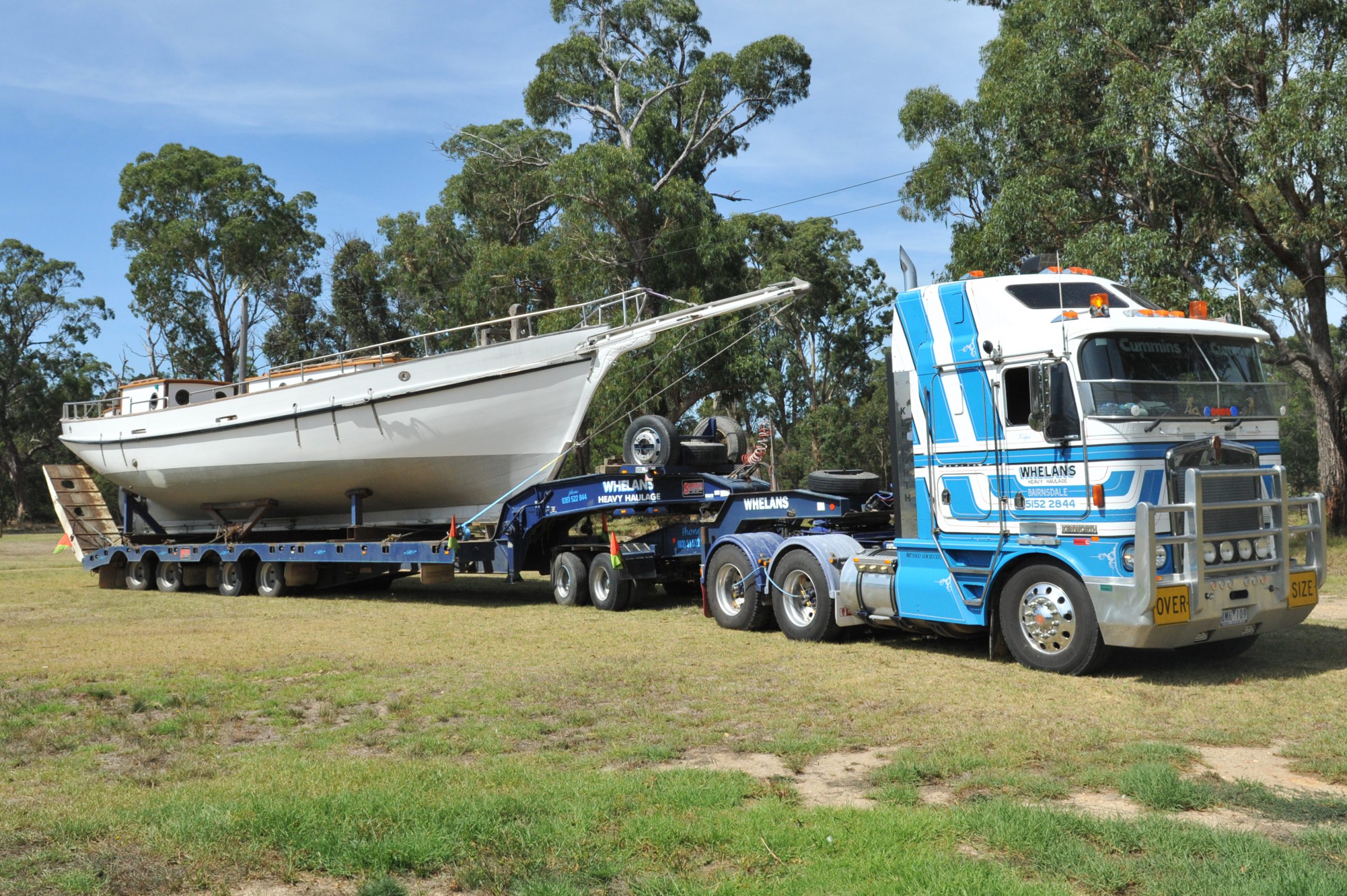 FEATURE
By Louis Nelson
"Barefooted, barebacked and always smiling, the little carpenter would stand back from one of the roughest timbers known to humanity, swinging his adze two-handed like a wood chopper…"
Such is the romantic prose boat building conjures in literature, in this instance scribed by author Tom Ronan, writing about what is arguably Broome's oldest pearl lugger – 'Pam'.
"It was a poem of craftsmanship: the sort never to be seen again."
However Pam has been lucky enough to see such carpentry again, through former Toongabbie resident Dan McLay, who through a labour of love, 25 years in the making, has restored the 90 year-old boat to its former glory.
Preparing to launch the vessel for its latest incarnation as a charter boat at Gippsland Lakes later this month, Mr McLay has achieved what many believed was impossible.
"It was basically a ship wreck; we've had to do a total rebuild and pull out every part of it," Mr McLay said.
Having undergone five restoration attempts over its lifetime, through a rich history of owners with high aspirations, it was dogged perseverance which saw Mr McLay succeed in his quest.
"There was a lot of people out there who thought it wouldn't happen, but the way I saw it was not to give up half way through, otherwise everyone else would have been right, and I hate being wrong," Mr McLay said.
With only 10 original Broome-built pearl luggers left in Australia, Mr McLay views Pam as treasured piece of Australian history.
Tied to the legacy of cemeteries full of Aboriginal and Japanese pearl divers who fell afoul of decompression sickness (the bends) and the iconic bobble-head full body diving suites of the deep – Mr McLay said luggers were a heritage worth preserving.
"The lugger is a classic Australian icon in the boating industry, but the really sad part is there's only 10 left."
Built in Broome in 1925 with her characteristic flat bottom, enabling it to beach safely on Broome's renowned 30-foot tides, it went on under subsequent owners to harvest mother of pearl beds in Darwin, where she spent 70 per cent of her working life.
The Pam first stole Mr McClay's heart in 1988 – on a trip to Darwin's Fisherman's Wharf, where then-owner John Corbet was attempting to return her to water.
Ravaged by white ants and smashed by Cyclone Tracey, Mr Corbet had stabilised its hull and floated her, however the project failed to attract further interest.
For Mr McLay however, it was love at first sight, instilling a dream in his mind he never thought realistic.
That was until two years later, when Pam's unmistakable flat-bottomed curve showed up in a boat classifieds magazine.
Mr McLay jumped at the turn of fate – successfully arranging to swap a 1979 Harley Davidson Classic for the abandoned lugger.
Shipping Pam across the mainland through Cooper Peedy in 1989 to the Latrobe Valley, Mr McLay's 25-year mission to restore her had begun.
"It sat around for 10 years as I built up my bank account," Mr McLay said, who had to resort to selling more of his treasured Harley Davidson collection to keep the project afloat.
The near-impossible project got its big break in the late 1990s, when he secured community restoration grant through Latrobe City's Federation project, allowing the rebuild to continue at the Traralgon Men's Shed.
It was an enormous team effort where 120 Work for the Dole participants and countless more volunteers donated their time to the complex rebuild.
The Pam project experienced a thrilling blast from the past in 1998 – when her second namesake – Pamela Nielson – the then-77 year-old daughter of Pam's former Captain Ansell Gregory – travelled to visit the project from Los Altos in California.
"It's such a thrill seeing her again after so many years. Memories of my childhood have come flooding back," the late Ms Nielson told the Traralgon Journal during her visit, vowing to return at the project's then predicted completion date of 2001.
However the grant funding was soon after pulled, once again sending Pam's future into limbo, before Mr McLay shipped her to a property in Toongabbie, purchased for its ample boat building shed space.
"Sometimes I doubted this would ever happen, but the secret was to never give up," Mr McLay said.
Trucking Pam to the Paynesville slip yards in March, where the final touches are being put on the boat including its mast installation, Mr McLay, soon to be Captain McLay, said he was ecstatic to see her take to the seas once again.