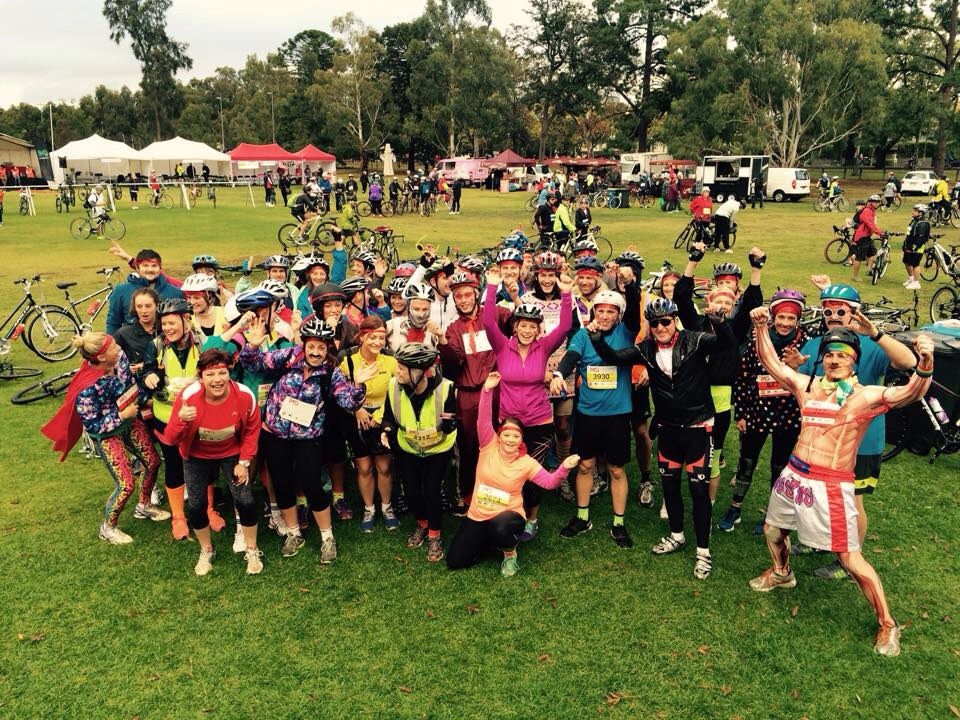 A team of more than 50 community members from Yinnar rallied to raise funds for MS Australia recently.
Hailing from Yinnar and its surrounds, 'the Italian Stallions' team included footballers, netballers, cyclists and friends who got on their bikes to support Andrew Nardino.
Mr Nardino was diagnosed with multiple sclerosis in 2002, and his brother and mother also suffer from the debilitating disease.
The group rode 50 kilometres through Melbourne's central business district and over the West Gate Bridge.
Raising more than $10,000 for MS Australia, Mr Nardino's daughter Laura Nardino said the team of 51 stood out in the crowds with their crazy outfits.
"It was overwhelming to know that our family and friends were so committed," Ms Nardino said.
"Dressed in 1980s theme of lycra and fluoro, the team was ablaze of colour and style which provided laughter upon first sight."
She said inclement weather failed to dampen the spirited riders.
"The ride was both physically and mentally challenging, particularly when facing the 'beast' – the West Gate Bridge," Ms Nardino said.
"The Italian Stallions were fuelled by adrenalin to overcome this hurdle, and to their pride, they all succeeded.
"There were lots of tears of happiness once our members crossed the finish line and everyone felt that the challenge was totally worth it in the end."
Ms Nardino said a key highlight of finishing the race was seeing her dad waiting at the finish line.
"Highpoints included selfies on the West Gate Bridge, the joy of finishing with your mates and the looks on every single person once they conquered the ride, who were met by the biggest supporter of all, my Dad," she said.
"We would like to say a special thanks to Yinnar Football and Netball Club for their generous contribution as well as give a warm thanks to all our other supportive sponsors who have made it possible to achieve our target.
"But most of all we need to thank the driving forces behind the team organisation, particularly Kaitlin Nardino and Lisa Yates."