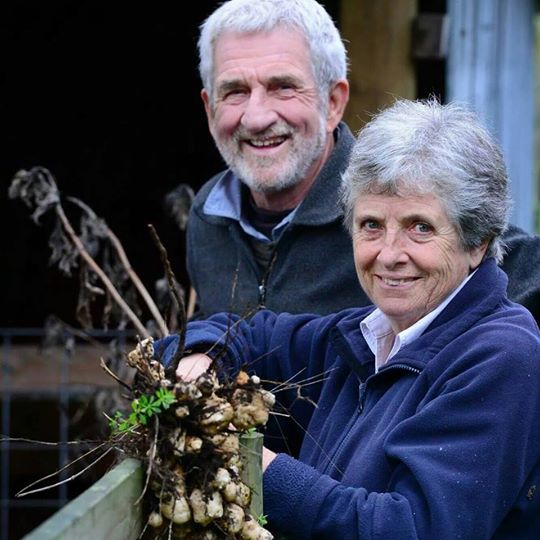 Reducing the global footprint of food and encouraging people to buy fresh, local produce is one goal a South Gippsland couple has committed to.

Ten years ago, Gil and Meredith Freeman started Grow Lightly as a private business, which has since transitioned into a not-for-profit company.
They've joined hands with the average person growing an overly-productive fruit tree, the small market gardener and large commercial producer to supply food to the broader community.
Mr Freeman said it was all about helping "South Gippsland feed South Gippsland", with organic, fresh produce grown around town and staying within the district.
"We need to change the way in which we think about food," Mr Freeman said.
"If we want the best quality, freshest food (we need to) reduce the way it is stored and the way in which it moves around the world.
"That means we are much less intensive on our carbon resources."
The couple's organisation has grown from a small profitable enterprise into a public body with a board of eight people and a steady volunteer-base.
"We do run on the good will of a lot of people," Mr Freeman said.
The group packs weekly or fortnightly vegie bags at a cost of $26 each and distributes them across several towns, including Mirboo North and Churchill.
The couple has also recently set up a Food Hub store in Korumburra, where residents can buy fresh food or participate in workshops, discussions and film showings.
Although they do not insist on organic certification – a stamp that can come at a high price and charge a premium for consumers – they do insist on clean, fresh produce.
"We have found it is not easy to get local food into the local shops, so we had to do it ourselves," Mr Freeman said.
"It means local money stays local and we can build up the horticultural resources of the region."
Since becoming a public body two years ago, Grow Lightly is now providing about $65,000 each year to local growers and producers.
It will officially launch its Food Hub on Korumburra's Silkstone Road, in conjunction with South Gippsland Shire Council, this Saturday at 12.30pm.
Fortnightly vegie bags are available from Mirboo North's Dalliance Chocolaterie and Providore on Sunday mornings, and the Churchill Neighbourhood Centre on Monday mornings.
Churchill Neighbourhood Centre coordinator Julia Leonard said the vegie bags were part of a number of health programs the centre was happy to support.
"The neighbourhood centre is pleased to support local residents in accessing healthy food and we also run our cooking classes and have our community garden," she said.
If you would like to order a vegie bag or find out more about the workshops, visit www.growlightly.com.au and fill out an enquiry form.