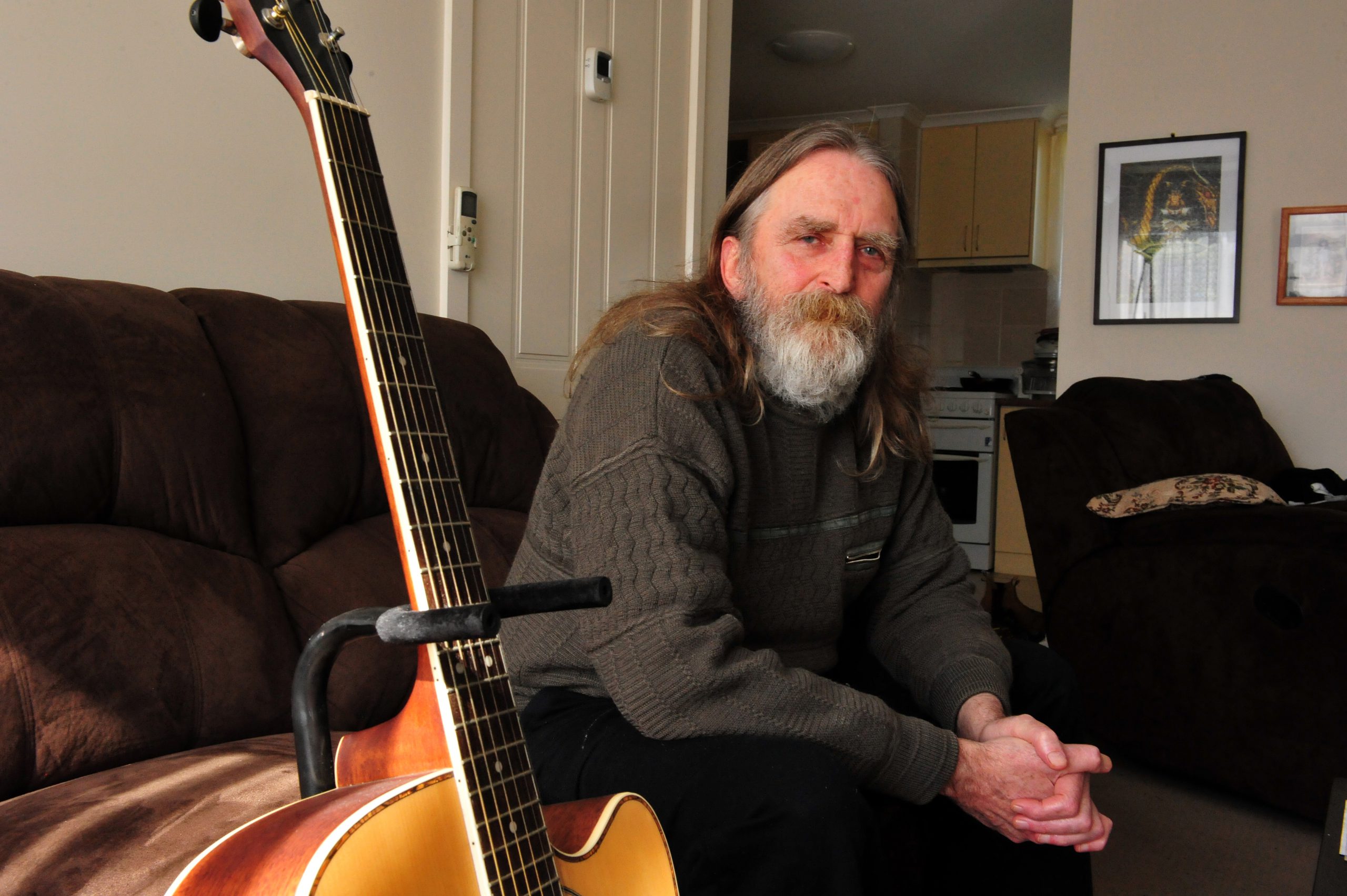 WHEN Michael 'Stork' Vandersluys auditioned for Rose Tattoo on a toy drumkit in the mid 1970s, he never suspected he was starting something that would endure four decades on.
However, hard rock and sharpie nostalgia will hit fever pitch for the Newborough resident this New Year's Eve when the band he helped launch at Chequers night club in Sydney turns 40.
While the line-up has changed over the years, Rose Tattoo lives on, though is best remembered as fronted by Angry Anderson and for its distinctive slide guitar, played by Peter Wells.
Less remembered is the man who preceded Dallas Royall behind the kit for the band's first performance.
Michael Vandersluys was born in Fitzroy and grew up in Collingwood, he chuckles, and unsurprisingly for a foundation Rose Tattoo member came up as a sharpie.
"To me, like most people now my age, it was just a part of growing up. There were sharpies, there were mods, there were rockers and there were those that weren't – people that just worked normal jobs," he said.
"We were just another group of people in a bigger group."
Subculture aside, Stork was immersed in the music world from a young age.
Uncle and primary influence Peter Cahill, a 50s and 60s rocker who played with the Laurie Arthur four, inspired Vandersluys to play percussion.
When Cahill retired he gave Vandersluys his drumkit and started hosting dances, where Stork worked the coke machine aged 14.
There he met some famous faces from the industry, growing up around the likes of Chuck Berry, Willie Dixon and Muddy Waters, and his musical connections snowballed from that point on.
"I met these guys, and they're very powerful influences, also I met Johnny O'Keefe and what a beautiful man he was," Vandersluys said.
With a foot in the door Stork started jamming with bands in Melbourne, in a time when musos could get up on stage and play a bit part in someone else's act.
Once he was pulled up on stage to play tambourine alongside Richie Blackmore of Deep Purple, who had in turn been invited on stage by a band Vandersluys knew.
"That's the sort of stuff that happened… those were the days when masking tape held the microphone together – you don't see that now, it's all very technical, very well organised, very professional," he said.
"Back then it was a very small fraternity… if you turned up at a gig and knew the guys that were playing and they had spare (instruments you could play)."
Another connection, Ian Rilen – who Vandersluys met while playing in a band called Daisy Clover, led him to Rose Tattoo.
"He had this obsession, he wanted to be in a rock 'n' roll band and he wanted me to drum, and… that's how it happened," Vandersluys said.
"It was a mission of ours from six years before to do this, put this band together."
Rose Tattoo was just starting out in Sydney when Vandersluys was invited to audition by his old friend – the two met long before Rilen could play bass – though he didn't come entirely prepared.
Anderson had just replaced Tony Lake as lead vocalist, bringing with him Mick Cox on guitar, but a drummer was required to complete the puzzle.
Four others trialled for the spot but when it came Vandersluys' turn he didn't have a kit to play on.
He asked the other hopefuls if he could borrow theirs but naturally they declined.
Rilen, desperate for Vandersluys to jam with Anderson, ran upstairs and produced a miniature set, belonging to his boy JJ, which didn't phase Vandersluys one iota.
"When I started playing drums I was banging tins, I was playing dirt bins I was banging anything to give me a sound, so to sit on that was nothing," Vandersluys said.
They played what was later to become an iconic hit, Bad Boy For Love, and 'Stork' was in 30 seconds later, but he still didn't have a drum kit.
Luckily the band sorted that out.
Together they got down 16 tracks in the space of a month, rehearsing eight hours a day, leading up to their historic first performance on 31 December, 1975 in a card which also featured a young Cold Chisel outfit.
"The way we rehearsed was just full on, eight hours a day every day and my hands were just totally wrecked, that's why I used to wear a glove on one hand. I wanted two but Ian could only get one because it was a golf glove," Vandersluys said.
"It (that first gig) was fantastic; we got encored twice, it was a moment I'll never forget.
"We were the second last band to go on and the band that was supposed to break in the New Year were getting a bit toey because we kept coming back."
A tiring Vandersluys gave the lead act their wish before long.
As the crowd pleaded for more from the high energy act the drummer was not willing to comply.
"The pace of this last song was just really flat out and when we finished it (the crowd was cheering) 'more more' and I just went bugger this and kicked the kit down," he said.
"Everyone thought it was part of the act… (but) it was just a statement from me saying I can't do it anymore because of my hands."
The nightclub manager immediately approached the band after the performance wanting to manage them, and the group was offered a residency at legendary Sydney institution, the Bondi Lifesaver.
Work on a debut album soon began before Vandersluys' stint with the band came to an abrupt close within the year, but that's a whole other story.
For Stork, the journey was short, but sweet.
"It was the best time of my life, without a doubt," Vandersluys said.
"Ian and I had a mission and that mission was accomplished, and I was just so rapt when he came home with his 45 (7 inch vinyl single) with his name on it."
Stork was part of one more musical venture before bowing out of the game.
It too proved short-lived, though on paper had promise.
Fronted up by Dick Diamonde from the Easybeats, coincidentally born Dingeman van der Sluijs, Vandersluys drummed on a demo tape at Armstrong Studios for a new collective.
It was far from well received.
"They listened to the tape and they said it was crap and get out of here," Vandersluys said.
End music career.
After rock and roll Stork changed direction, got married, and had a child.
They moved to the country and lived happily in Drouin until his wife died about 20 years ago.
"My son and I have been trying to deal with it since… it never leaves you," he said.
"Once she died it was like the music died as well… well it didn't die, it's kept me alive to tell the truth, music keeps me alive, but for a lot of years the last thing I wanted to think about was music, writing music or playing it, it was trying to make sense of what was going on in my life.
"It was a nightmare and probably still is."
Now 63 years of age Vandersluys is ready to celebrate his musical accomplishments with all Rose Tattoo fans for the 40th anniversary.
While he's not too familiar with the band's latest work, he figures it must still be going strong after he recently stumbled upon a Rose Tattoo slot machine.
"Apparently it's pretty big," Vandersluys said.
"I'd like to congratulate all other members for contributing to the success of Rose Tattoo and to all the fans that followed us, and I hope that everyone celebrates with me on our 40th anniversary, especially Angry, I'd love to hear from him and see what he's doing.
"I started something that is still going and I think will keep going for a while."
Vandersluys wished to thank his friend AJ for his support in recent times.