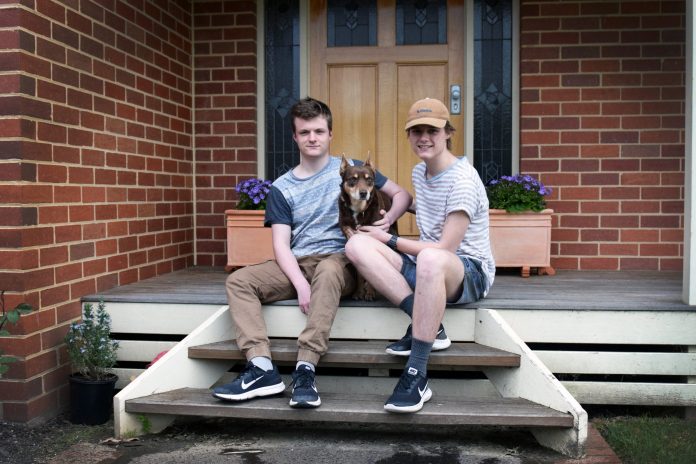 Tessa Randello
The Rankcom family is relieved to have Tom back home in Traralgon South after the 17-year-old suffered an unexpected cardiac arrest.

The Gippsland Grammar Year 12 student collapsed during an F45 class in late June, while working out with his older brother Charlie and mother Carolynne.
Off-duty paramedic Ellen Bailes was in the class when she noticed Tom on the ground.
"I went over to see what was going on and I tried talking to Tom, he was not responding to me at all, so I thought something pretty serious was going on. I had some work equipment in my car, so I ran and got it," she said.
"It was the first time in my five years on the job that I have had to help someone while off duty … it's not something you expect to do and it is a completely different experience, I was very thankful that F45 had a defibrillator.
"The trainer knew CPR and that combined with having the defibrillator is very important in instances like this and it can also help first responders when they get there."
Mrs Rankcom said the family was "very lucky" to have an off-duty paramedic in their gym class and a defibrillator on the wall when Tom collapsed.
"Thomas actually said to me during the class 'I've got a funny feeling in my heart' … I turned to him and said 'just go a slow pace, or sit down' no sooner had those words left my lips that he fell down … I thought maybe he was having an epileptic fit," she said.
"It was very overwhelming, my legs went to jelly and my heart was just going crazy."
Tom was rushed to LRH where his heart stopped again and then he was airlifted to the Royal Children's Hospital in Melbourne, where his heart stopped for the third time that morning.
He was placed on life support for two weeks and opened his eyes with no memory of the experience.
Mrs Rankcom said the family also had to juggle with the state's COVID-19 restrictions while Tom was in hospital.
"When Tom was critical, for about the first week me and Paul were able to see him together, a lot of really important decisions were being made then and we were signing permission slips left and right" she said.
"But, after that you can't have two parents in the hospital at the same time, we were trying to relay really important information to one another … when you aren't there at the same time to hear information and it gets pretty tricky," she said.
"Charlie had to stay home, he was not allowed to see his brother for two and a half months.
"You take all of the area for granted when you live in Melbourne, it was great to come back home and see the Strzelecki Ranges.
"Having him back in his room and laughing with his friends it's a fantastic sound and it's great to see the boys back together."
Charlie said staying at home with no information while his brother was in hospital was a strange experience.
"Sometimes I would get a bit of angst, especially in the early days when there was calls from mum and dad I didn't know what it was going to be about," he said.
"I remember one distinct day … I returned from a walk and I saw dad's car in the driveway, he had come home without me knowing, and I almost started to get worried because I didn't know if he was going to bring good news or bad news."
Meanwhile, Tom underwent 14 procedures and had cardioverter-defibrillator (ICD) installed, but he still managed to join his school classes through Zoom, and he said the catch up was manageable thanks to his teachers.
Tom was in hospital before and after Stage 4 coronavirus restrictions were implemented in metropolitan Melbourne and said that added to the "strange" hospital experience for him.
"At the start, being in the hospital is pretty confronting because you are in a place that is often associated with sickness so you don't feel comfortable being there, but then as I settled it became like a second home, " he said.
"It definitely got really comfortable there especially when I was in the Koala ward which is basically like a hotel room.
"I had a lot of COVID-19 tests, I think I ended up having six or seven swabs over the entire time that I was in hospital, which isn't very pleasant.
"It was also strange to see the nurses with all their face masks on all of the time.
"It was also confronting to come home because I have gotten used to the security of the hospital and I knew if anything was to happen again I would be fine because I was in hospital.
"The first few days were a bit weird but now everything is just back to normal."