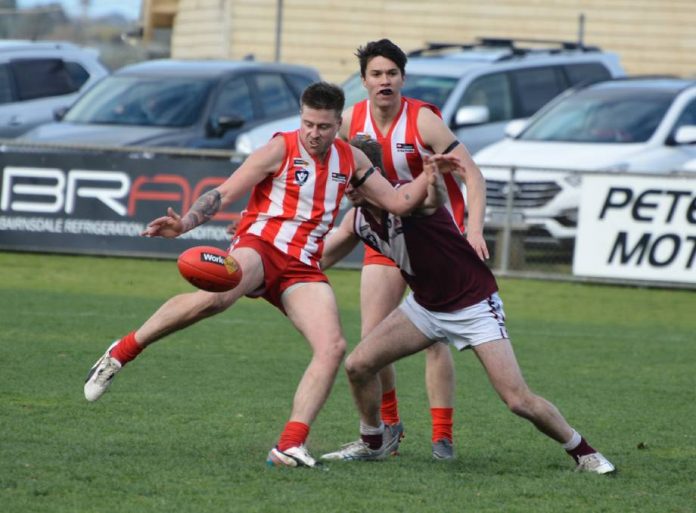 Liam Durkin
WITH finals on the horizon in Gippsland cricket, the rule book will no doubt be getting a good reading over as teams make sure certain players are qualified.
Selectors, captains and coaches will spend the next few weeks mulling over names on various magnets, deliberating the merits of getting them enough games under their belt to stay with a particular team if they happen to make finals.
Training numbers are guaranteed to pick up for teams that look set to take their seasons into March, and those choosing sides will welcome not needing to send the dreaded 'want a game of cricket this weekend mate?' text message.
The selection table at this time of year could well resemble a war room, such is the importance of the decisions at hand. Some cheeky selections are set to be made, with players being thrown onto team sheets knowing full well they won't be getting to the game on time.
During winter a similar concept arises in football, with some coaches confident enough of achieving victory in a lopsided home and away fixture that they will select a player who is not fully fit but earmarked to play finals to fill a spot on the bench.
There is surely nothing more suspect when a player runs onto the field for literally 15 seconds and off again just to get them qualified for finals.
It is always an upbeat time for a cricket club that manages to get multiple teams in finals.
For players that jump between teams during the season, knowing more than one side will feature in at least the semi final makes the fear of missing out a little less daunting.
If a player happens to miss out on selection in the team picked first, at least there is the consolation of still playing finals in the team picked second.
To some however, that often does nothing to help ease the disappointment, and as bad as it sounds, they hope a team that has the audacity to leave them out goes on to lose. It is here the good old fashioned dummy spit can occur, which some are prone to enact after teams are released.
As AFL coaching games record holder Mick Malthouse said: "the 22nd player thinks the coach is a genius – the 23rd thinks he's got no idea."
How a player responds to a selected team usually depends on what their expectations are. If you don't expect to be picked then you really don't care. Or you at least have the option of pretending you don't.
When a player suffers the axe the dialogue often goes along the lines of: "it's nothing personal", "we're going for team balance" and "we just want you to get a good hit in the lower grade."
It's a sinking feeling to be told there's no space for you in the team.
The selectors are the bouncers at the nightclub door, the same door you've just watched all the others walk through.
Selecting teams can be difficult, and those who have been around long enough know this and know how the system works.
A lot of the time politics and nepotism become involved, and when faced with two players of equal ability, selectors just choose based on personal preference.
When Brad Hodge sought an explanation as to why he was dropped from the Australian test team, the response he got was simply "we just chose Damien Martyn instead".
Players need to remember they are members of the club and not tied to a particular team, and just because they miss out on selection it doesn't mean they aren't good enough – that is simply the view of a handful of people who pick the team – not the view of many people at the club or the player themselves.
While it will be unfortunate for any players who miss out come finals, in just eight months time a new season will have arrived and season 2020-21 will be forgotten in the minds of 95 per cent of people.
Before then though, as the finals approach, the motivation should be there for players who might feel hard done by to keep training and keep the faith.
Finals often throw up some curveball selections, and many players who have kept working have benefited from being the last one standing at the finish line.
Just last season Christian Burgess came into Trafalgar's premiership team with two rounds to go, while the season before Churchill was forced to make a change to its eventual premiership team after Jesse Giardina was injured during grand final week.
Those wanting to play finals can also do their chances no harm by completing one simple act: paying their subs.
Liam Durkin is a senior cricketer at the Trafalgar Cricket Club. He was dropped from the firsts two games after playing in a premiership.