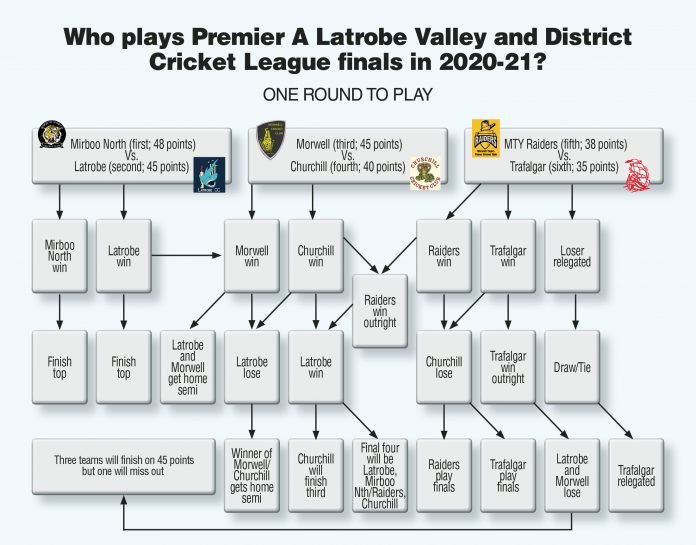 Liam Durkin
WHERE teams finish in the Latrobe Valley and District Cricket League Premier A Grade competition will come down to the last home and away round.
Amazingly, the positions of all six teams on the ladder could change and any number of possibilities are on the cards.
While the destiny of most teams won't be decided until first innings results are secured next week, players will know by Saturday whether they are in with a show or needing everything to go right.
All six teams have something to gain and equally something to lose, with Mirboo North, Latrobe, Morwell and Churchill fighting to finish first or second to get a home final, while Morwell Tigers Yinnar Raiders and Trafalgar will have motivation to win on two fronts: firstly to give themselves a chance of playing finals, and also to avoid relegation.
MIRBOO North and Latrobe will meet in a battle for top spot at Peter Siddle Oval.
A win to the Tigers will secure first position, while Latrobe can get the same outcome if it is victorious and other results go its way.
Mirboo North has not lost a game since late November, which was against the Sharks.
Given the evenness of the competition, both teams won't be looking too far ahead of this Saturday.
Mirboo North pace ace Madura Perera leads the competition with 32 wickets, and should be good for at least two or three poles in this match.
Latrobe has had a good run of player availability this season, and has only used 13 players so far.
Of those 13, 11 have played 10 or more games, meaning the team has had a settled lineup for most of the season which has arguably been a key reason why the team finds itself on the verge of securing a home final.
The Sharks bowlers have been a model of discipline in 2020-21, as none of its top five bowlers Jack Gay, Tyron Gamage, Hiran Rajapakse, Chris Johnson and Jamie Brierley have gone for more than 2.99 runs an over.
In addition, the above mentioned names have taken at least 15 wickets each.
MORWELL and Churchill will play at Morwell Recreation Reserve.
Like their Tiger counterparts Mirboo North, Morwell has not lost a game since late November, and have slowly but surely made their way up the ladder.
For a while it looked as though Morwell would be undone by outside factors, as it has four draws next to its name – the most of any team, but things have been able to level out to a degree in the last few weeks.
The Tigers put in a complete performance against Raiders in the most recent two day match, blowing them off the park in a 141 run thumping.
Opening bowler Travis Pickering is arguably the in-form bowler of the competition, and his figures in the last three games have been 6/40, 4/45 and 4/23.
The Cobras simply need to win this match to give themselves the best opportunity of qualifying for finals.
Churchill goes in with two wins from its last three games and will know it is more than capable of rolling Morwell, having defeated Latrobe, a team on the same number of points as Morwell, less than a month ago.
Fielding has been a hallmark of Churchill under Brendan Mason, and opposition teams often comment that it feels like there are 15 players on the ground when they bat against Churchill.
The Cobras have executed two run outs in the last two games and if they can cause some mix ups in this match it could go a long way to determining the result.
TRAFALGAR will travel to Yinnar to take on Raiders.
The match presents a double entendre for both teams, who need to win to not only be a chance of playing finals, but to also avoid relegation.
Having won the Premier A premiership last season, it is unlikely anyone at Raiders would have thought less than 12 months later they would be playing the last match of the regular season with relegation on the line.
A small curse might be developing in the LVDCL that sees the previous season's grand final team fighting relegation in the next season.
CATS was relegated last season after making the 2018-19 grand final, and Trafalgar, A Grade premiers last season are on the verge of dropping back.
Winning form isn't on either Raiders or Trafalgar's side heading into this, as neither team has won a match since Christmas. The Ships have had to settle for two losses and two draws, while Raiders have lost their previous four games.
Raiders skipper Liam Maynard has done most of the work with the bat in recent weeks, while his opposite number Rhys Holdsworth has done the same for Trafalgar.
Raiders have a lot of wicket taking options, with five bowlers so far returning 14-plus wicket seasons, and the obvious threat to Trafalgar is Brad Knowles, who took 6-17 the last time these two teams met.
The Ships slow scoring rate in two-day matches so far this season has been telling, and the challenge will be to ensure Raiders don't string too many maidens together.
Trafalgar has defeated three of the top Premier A four teams, which deserves some credit considering they have played away from home every week.