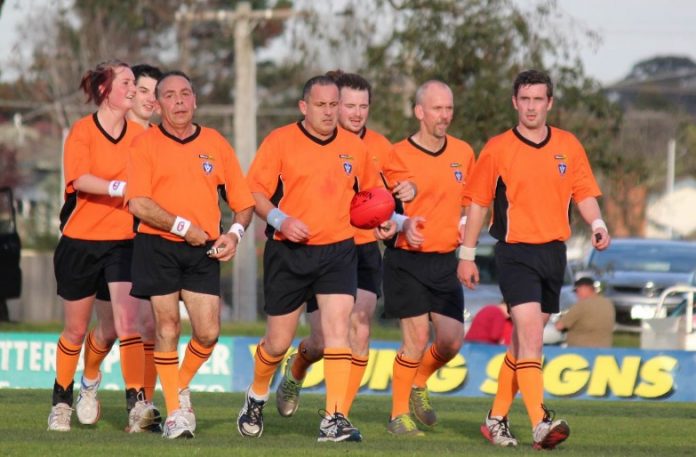 Liam Durkin and Gregor Mactaggart
WHILE there are some high-profile players and coaches in Gippsland football, readers may be interested to know there are also some high profile umpires.
A number of umpires from the Latrobe Valley have made their way to AFL ranks including Tim Charles, Colin Hood, Justin Stephenson, Darren Fletcher and James Fleming.
Arguably the biggest name in AFL umpiring however comes from Leongatha in the form of Matt Stevic.
Stevic has umpired in every AFL grand final since 2014, and his 45 finals are the most by any umpire in the history of the game.
Stevic found himself splashed across most football media recently after being bumped by GWS forward Toby Greene – an act which ultimately ousted the Giants hot head for the remainder of the season.
Strangely enough, Toby Greene also has a vague connection to Gippsland, as his younger brothers Hugh and Ed played at Thorpdale a few seasons ago.
Hugh came runner up in the Mid Gippsland Football-Netball League best and fairest in 2017, while Ed came second in the league goal kicking after slotting 59 majors for the Blues in 2018.
Most involved in local football have developed some sort of affinity with umpires over the years, and generally know a lot of them on a first name or nickname basis.
To this end, those who have been around for a while also know what they are and aren't going to get from certain umpires, which causes part of pre-game conversations to go something along the lines of "you know what this bloke is like".
For the umpires themselves, many are former players looking to get a different perspective on the game, some are old timers wanting to stay involved, while some are simply footy nerds who can't get enough of it.
Something that is often overlooked is the fact a lot of umpires are actually good at playing sport in their own right, while some of the milestone numbers they chalk up are truly incredible.
This week, we are giving four local umpires their time in the spotlight.
On another note, do umpires have a Mad Monday?
1. Steve Buhagiar.
AFFECTIONATELY known by all in local football as 'Budgie', the Latrobe Valley Umpires Association stalwart's longevity has been remarkable.
Budgie ran his first game as a field umpire way back in 1984, and of the 999 games so far, 23 have been grand finals with 16 senior deciders in that lot.
The 999 figure has come about due to the ongoing lockdowns, which have left him stranded one short of the four figure mark.
As Buhagiar explained, his foray into umpiring stemmed from nothing more than a passing comment.
"I couldn't get a game of football and someone said 'come and try umpiring'," he said.
"I started with six games to go in the season. I thought 'I like this' and I kept going and haven't looked back after 36 years."
Across nearly four decades Buhagiar has seen the football landscape change dramatically.
"When I first started it was one umpire, we used to bounce the ball, we'd go to Maryvale, Toongabbie, all the way to North Gippy … just one umpire games in those days was very hard," he said.
As well as umpiring grand finals, Buhagiar pointed to country championship carnivals during the heyday of the Latrobe Valley Football League in the early 1990s as highlights, as well as running alongside umpires from the big league.
Nearing the age of 60, Buhagiar reckons he doesn't have too many years left in him.
He is currently second on the all-time games tally at Latrobe Valley Umpires, and said he was
happy to sit behind Don Wight, who is coming up to a lazy 1300 games.
"I've got no intention of catching him," he said laughingly.
Buhagiar believed fitness and concentration were some of the keys to umpiring.
"Be confident with what you do, when you blow the whistle you're not going to change your mind – be confident with what you've paid," he said.
2. Lachlan Floyd.
THOSE who have played a game in the Sale-Maffra area have more than likely had Lachlan Floyd umpire their match.
Although still young in umpiring years, Floyd has already clocked up more than 400 games in the Sale Umpires Association since starting out back in 2007.
From there he has gone on to umpire at VFL level, and lived every youngsters dream by stepping onto the hallowed turf of the MCG to officiate a match.
Like the majority of players in the VFL system who work regular jobs during the day, the same applies for umpires, who must put in next-level forms of commitment just to make a go of it.
During his days in the VFL, Floyd would spend six hours driving up and back from Sale to Melbourne to make training, as well as game day on the weekend.
He returned to Sale Umpires this year to take up the position of umpiring director, passing on his expertise to help improve standards across the board.
Showing umpires do actually have a sense of humour, Floyd has encouraged those interested to "come and have a blow".
3. Peter Perillo.
KNOWN as 'Krusty' for his likeness to The Simpsons character, Perillo has been a mainstay at the Sale Umpires Association for many years.
Perillo is a life member of the association, and having officiated in more than 900 games, is also one of its most decorated.
Anyone who knows Perillo knows his passion for the game, as well as his willingness to umpire any number of games across one weekend.
"I just love the game and there's not much that will keep me away," he said.
"The thrill of the game, the emotion, the discipline and the skill – it's all there.
"Every game is different and that's part of the excitement."
Describing umpiring as "the most self-motivated sport you'll ever do", Perillo said there was a number of attractions to umpiring such as fitness, being close to the action, and while not of great importance – the money side of things.
"I know blokes who'll umpire for a pie and a beer after the game – the fact you get paid for it is a bonus," he said.
"For the juniors to get some pocket money it's a great way to do it."
Like any job there are downsides, and naturally, the biggest challenge umpires face and will forever face is abuse.
As Perillo explained, these are the realities umpires confront weekly.
"I do it for the fitness and love of the footy, but a lot of people can't take the abuse and the expectations of having to get everything right every time and that is the real challenge," he said.
"We lose blokes every year because they figure they just need to do it for a bit of fun and fitness and a bit of a hobby, but then when the abuse gets personal you do go home and wonder why you do it."
As the adage goes 'the best umpires are the ones you don't notice', that saying may have been flipped on its head in the last few months as it is hoped players, coaches and spectators have a renewed appreciation for the role and importance of umpires, for without them – the game cannot go on.
4. Jimmy Heland.
NO list of local umpires would be complete without Jimmy Heland.
Heland would take some beating in the funniest-man-ever stakes, with no shortage of one  liners and gags leaving those in local football circles in absolute hysterics over the years.
Following a 178-game career for Trafalgar that netted four premierships, Heland turned his attention to umpiring for the Latrobe Valley Umpires Association, becoming a fan favourite across hundreds of games for his various idiosyncrasies and interactions with players, fellow umpires and those in front of the bar.
If ever there was an umpire who adhered to the 'letting it go' mantra it was Heland, who's
umpiring style could possibly be best summed up in just two words: 'play on!'
Who are some other famous umpires in local footy?
Let our newsroom know at sport@lvexpress.com.au