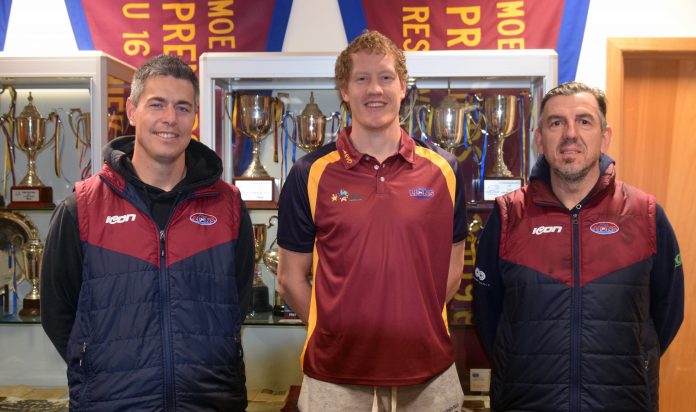 Liam Durkin
By LIAM DURKIN
THE Keilty name will take out another section on the Moe Football-Netball Club honour board next season, although this time it won't be in the treasurer's column.
Local lad Declan Keilty has been appointed senior playing-coach of the Lions, making the natural progression from the role of assistant coach held this season.
As has traditionally been the way at Moe since the turn of the century, the Lions have appointed someone immersed in the history of the club to the senior coaching job, which Keilty has signed on to lead for the next two seasons.
Keilty played junior and senior football at Moe before going on to play in the VFL with Casey Scorpions.
From there he was picked up in the 2016rookie draft by Melbourne.
He spent three years on Melbourne's list, making two AFL appearances.
The key position player returned home this season, slotting in seamlessly at centre half
back.
Moe players and officials will be hoping the 26-year-old's move into the coaching chair will be just as seamless, while Keilty himself believed he was ready to take on the challenges the job presented.
"I think coming back to Moe initially and being the assistant coach this year was probably a pathway into coaching," he said.
"I always wanted to coach, I didn't honestly expect I'd coach this early but I'm happy that the opportunity has presented itself. I think I would have been really disappointed if I said no.
"Manny (club president Manny Gelagotis) approached me with the prospect of coaching next year and ever since then the more I think about it the more excited I get, so to finally say yes, I'm pretty happy."
Keilty will have no shortage of coaches to extrapolate from, and said he would be taking leafs from the likes of Melbourne coach Simon Goodwin and the man he is replacing in Moe legend Lachlan Sim.
"Jade Rawlings was a big part of my development when I was in the VFL," he said.
"I spent a lot of time with him, had a lot of connections personally with him, he was a good role model for me and obviously Lachlan Sim, I've known Simmy since I was young and I owe a lot to Simmy."
Sim passes on the baton after coaching the Lions for eight seasons across three stints, and leaves with a record of two grand final appearances and three preliminary final finishes from essentially six seasons (discounting the last two COVID seasons).
For obvious reasons the pressure to perform would appear immense, however, Keilty said he saw his appointment as more or less a continuation of the work of his predecessor.
"Simmy has done an amazing job with this club and put us in a great spot, the foundation that he's built is really strong," he said.
"Hopefully I can just build on that, I'm not trying to reinvent the wheel at the moment, just build on what he's done, improve the small things and hopefully put us in the best position we can to compete next year."
Sim said his successor was well poised to take the club forward.
"He brings a wealth of experience and a strong passion to the club which will be a huge asset to continue the growth and development of our club, playing list (senior and junior) including aspiring players from the area that would want to learn and be part of a very good club moving forward naturally in a great environment at Ted Summerton Reserve which ticks all the boxes," he said.
Somewhat ironically given he played for Melbourne, Keilty will be looking to emulate Simon Goodwin in his quest to bring home a long awaited premiership for Moe, something that has deserted the Lions since 1967.
Before that can be a chance of happening however the Lions will need to earn the right to enter premiership calculations by putting in a solid preseason and getting the chess pieces in order – something Keilty said was his main focus at this point in time.
"Preseason is definitely the number one priority at the moment," he said.
"It's like anything the more effort you put in the more you get out of it.
"Hopefully we can try and get as many people back to the club as we can and go from there and attack preseason as hard as we can.
"Despite everything that happened this year we did finish third so that target for us to finish first next year and at least be in a competitive spot to be able to push for the grand final – that's the aim for next year."
Although he assumed the role of senior coach during training at times this season, Keilty said he was under no illusion as to the responsibilities that now lay ahead.
"I understand the challenges that are going to come next year and I hope I can do my best and do what is right by the club," he said.
"I hope when the time comes I can separate the coaching aspect from the playing.
"I think it might be hard earlier in the year being a new experience for me but as long as I have the right support mechanism around me, which I feel I have, then I don't think that will be much of an issue."
Keilty is set to continue a long lineage of family involvement with the club, following in the footsteps of mum Lis who served eight years as treasurer and dad Jim who is a familiar face behind the renowned Can Bar.
The new coach should also have a good grasp on where the club has come from, having been through his share of dark times himself.
Keilty played in a Moe fourths team that won two games and two wooden spoons growing up, and now as the Lions appear well in the premiership window, there can be little doubt he has the club's best interests at heart.
Moe FNC president Manny Gelagotis said it was great to be able to lock in Keilty as senior coach.
"Declan has always been in the back of our mind for a long time," he said.
"Firstly it was good to get him back to the club and once he was back here we've all seen the qualities that he possesses and it only solidified what we originally thought of him being a big asset.
"Declan's CV is a quality one and something that the club has heavily invested in. He understands that and we're supporting him immensely to ensure he has all the support he needs.
"We're really excited to tap into his experience and in a succession plan I see Declan and Lachlan (Sim) in similar positions when they were young aspiring footballers coming out of an AFL system and now getting into senior coaching.
"I feel there is a really good synergy there and I feel there is no reason why Declan can't be as decorated as our spiritual leader that is departing."
Gelagotis wished to pay tribute to said spiritual leader, as the transition from master to apprentice takes place.
"On behalf of all at the Moe Lions we would like to not only thank but congratulate Lachlan Sim on all his personal successes and achievements and thank him for his tireless dedication to his roles at all levels of coaching ensuring, in our case, the Moe Lions have a long, sustainable future," he said.
At the heart of any community is people, and Gelagotis said it was, in Keilty's case, terrific to see a local kid giving back to the club that played a part in helping him realise his AFL dream.
"We're extremely fortunate Declan invested into this club and it's great that he is committed to being part of his local community that supported him and I think it is just a great story overall … great to see our elite players coming back," he said.
"As I've said from day one, we want to be a destination club – a club that people aspire to be like."
Keilty has played 27 senior games for Moe to date.
And for those wondering, it is pronounced Keil-ty.
Like guilty with a K.