Gregor Mactaggart and Alyssa Fritzlaff
THE local community's generosity has again come to the fore as part of the annual Christmas Giving Tree.
This was highlighted recently with the donations of handmade wooden toys by local men Steve Mitchell and Barry Williams.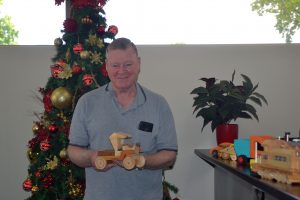 The toys included cars, trucks, planes, as well as dogs and dinosaurs on wheels.
Mr Mitchell, who formerly worked in the engineering industry, spoke of the effort behind the donation.
"It takes a few hours making each one… especially because you've got to go multiple coats of paint," he said.
Mr Williams, who formerly worked in security, donated 15 wooden toys, including an impressive toy train.
"All I ask is that the kids have fun playing with them," he said.
It is the second year in succession both men contributed donations to the Giving Tree, having first done so in 2020.
The Express has partnered with Anglicare Victoria for this year's Giving Tree.
Express advertising manager Lesley Hogan said this was the fourth year of the initiative.
"There are so many generous people in our local community, so many who want to provide happiness for disadvantage children – it is just so heartwarming," Ms Hogan said.
"Each year the amount of gifts placed under it just grows and grows. It is quite phenomenal."
Donations will be taken at The Express office, 21 George Street, Morwell up to 2pm on Monday, December 13.