Alyssa Fritzlaff
A TRARALGON family has raised more than $11,300 in memory of their aunty.
When the Hanratty family lost their Aunt Teresa Raven to ovarian cancer in October his year, her nephew, 16-year-old Josh, decided he wanted to help fight the disease.
Due to COVID-19 restrictions at the time, Josh and his siblings were unable to attend Teresa's funeral, so he set out creating a fundraising page where he promised that if he reached $1000 he would shave his head.
Little did he know he would end up smashing his original goal.
Eventually, his two younger siblings were inspired by their older brother and joined in.
Zahra, 15, donated 25 centimetres of her hair, and Jasmine, 12, held an online art auction.
The Hanratty siblings have many fond memories of their aunty, who played a huge role in their lives.
Teresa was remembered by the family for her love of cooking, her bright and bubbly personality and her dedication to her family.
"She loved cooking, and she made the best pancakes, because she put sugar in the batter," Zahra said.
"She was just a very bubbly person to be around, she was very loud… she came over all the time."
Josh hoped that starting up the fundraiser would raise awareness and funds for research as well as help him and his family mourn their loss.
"I was sitting in English… not achieving much. I was with my mate Sam, and I started the fundraising page… we were thinking at about $500 I would shave my head," Josh said.
But after returning home and talking with his mum, Josh decided to set the bar a bit higher, and he settled on $1000 as his goal.
"In the aftermath of losing Aunty Teresa, I was at a bit of a loss of what to do … I felt like I needed to do something to help me with the whole process, and this was a way to do that and a way to honour her memory, the best way that I could."
Josh's fundraiser quickly reached his goal, and before he knew it the clippers were coming out at school, and his hair was shaved off by the head of his year level and some classmates.
"The school was really good in letting me do that, and Zahra cut some of her hair off at school on the same day," Josh explained.
Inspired by her older brother, Zahra decided to join in, and not only help raise money, but give her hair to someone else in need.
Zahra ended up cutting off approximately 25cm of her hair after the fundraiser reached $7000.
She said it was a bit nerve-wracking to cut off so much for her hair, but once it was over she was happy.
"I wasn't sure how short it was going to be… so I was a bit worried," Zahra said.
"We sectioned it into four parts and had four teachers each cut off a section."
It was not long before Jasmine came up with the idea to auction a piece of art as part of the fundraiser.
Jasmine is quite an artist, and has a wall of art in the entryway to the family home.
Her pieces of art are some of her most prized possessions.
"I love to paint and draw and I wanted to be involved and contribute to the fundraiser," Jasmine said.
The siblings' mother, and Ms Raven's sister, Jenifer said she was extremely proud of what her children has achieved, and feels the fundraiser has gone a long way to raise awareness for ovarian cancer.
"Often ovarian cancer is found too late. Which was the case with Aunty Teresa, she was stage four when they found it. There's not many distinctive symptoms… so you don't really know you have it and it's often too late," Jenifer explained.
"The kids have raised so much awareness for a cancer that's not that common amongst young people… I think it's great."
On Saturday, November 27 Josh hosted an event called 'Teresa Day', in which a small group rode about 60km from Traralgon to the Maffra Cemetery, where Teresa is buried.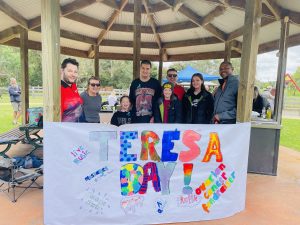 Teresa's son James was among the group of riders on the day.
At the end of the ride, they held a barbecue, raffle, live music and massages.
About 60 people were in attendance.
The Hanratty family took the chance to thank everyone for the immense support they have received.
"Everyone has rallied around the cause. We've got a big extended family, so we've had lots of donations and kind words coming in from everyone for the work that we've been able to do,"' Josh told The Express.
"Mates at school and friends from everywhere else have chipped in wherever they can and given us a helping hand. It's been really inspiring.
"Every dollar counts, it's all gone straight into the Ovarian Cancer Research Foundation who are doing everything they can to fight a bit of a lesser known cancer, that is really common in Australian women."
The family intend to stage another fundraiser next year.
Jenifer said she could not be prouder of her children.
"We have always taught them that they can make a difference … their Aunty Teresa would be very shocked, surprised and overwhelmed with happiness I think," she said.