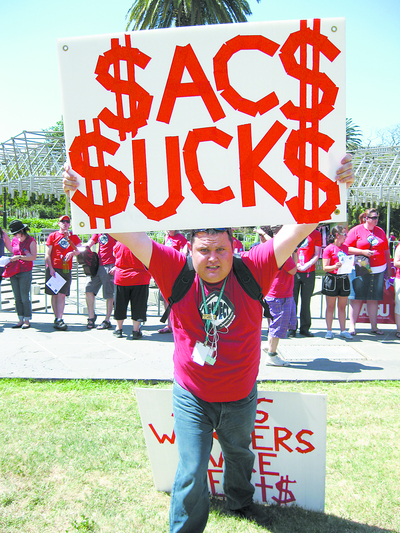 Gippsland social and community sector workers supported a 'flash mob' dance held on the steps of parliament on Spring Street, Melbourne last week, in a bid for State Government to endorse their pay increase.
The Australian Services Union members staged the dance in hope the government would back Fair Work Australia's support of the ASU equal pay case.
The pay increase of 23 to 45 per cent over eight years for social and community sector workers was awarded by FWA on 1 February.
The State Government committed $200 million to fund the pay rise, which was estimated at more than $900 million by the ASU, but warned endorsing the pay rate could lead to job cuts. ASU Gippsland industrial organiser Merri Blair said previously, employees at Latrobe Community Health, Berry Street, Mind, Anglicare and Quantum were on the minimum award and did not have an enterprise agreement.
"These people have degrees in social work; they have specialist knowledge and skills and were being paid less than a worker at a (supermarket)," Ms Blair said.
"They have finally received a well deserved wage adjustment.
"The Federal Government has said they will fund their share and committed $2 billion last year, but the State Government has not put in funding for their share; they have put in some but not nearly enough. We just want to keep pressuring the Baillieu Government by drawing attention to the issue.
"Before the last state election (State Government) made a commitment to fund the outcome of the case, so we want him to remember that he made the commitment and he should honour it."
State Member for Morwell Russell North said funding details had not been released.
"I would be happy to converse further with the senior government ministers on (how) the current situation stands, however, I do believe the Federal Government has not been forthcoming with specific details on how and what their financial commitment to this will be," Mr Northe said.