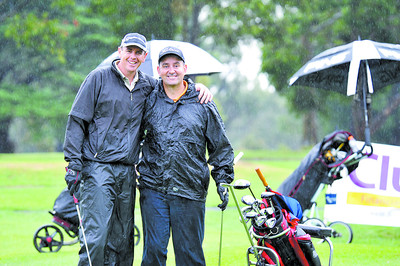 Unprecedented rain and massive wind squalls challenged even the steadiest professional, not to mention the amateurs, during the Traralgon International Pro-Am last week.
Craig Scott dominated the field at the Traralgon course last Thursday and Friday, with an impressive pair of 66s to win the event by four strokes.
At the end of round one, Scott held the lead with just five players able to beat 70.
Kris Mueck, who won earlier in the week at Drouin, was runner up with 67 and 69, one stroke ahead of the experienced David Bransdon with 71 and 66.
In 2011 Scott held the half way lead, only to be beaten by dual winner Scott Laycock, making this victory even sweeter.
It was the clearest win at Traralgon for more than a decade.
Beginning the second round, Scott knew he had quality players in pursuit.
Making a three-metre birdie at the wind assisted first hole, he played steady par golf before successive birdies at the sixth and seventh, both par fives.
A three-putt bogey at 11 spurred a run of four birdies in five holes.
A wonderful recovery from the trees bordering the left side of the fairway at 13 was capitalized by a four-metre putt for birdie.
A putt of similar length at 14 for birdie and another at the par five 16th, set the stage for victory. Scott refocused after a bogey on the difficult 17th knowing a par would probably be enough to win.
Aiming for the greenside bunker, the ball was pulled marginally left for the most awkward of second shots.
But with advice from local Tim Coffey on the bag, Scott manoeuvred the ball to the edge of the green before sinking a curling 12-metre putt for birdie.
The win was as clear as it was decisive. The victory, following a recent revival in form and confidence, was the icing on the cake for the 28 year-old Yarra Yarra professional.
'The course suited my game," he said.
"I was able to keep it steady; I only hit two wayward drives for the week."
Scott also praised the members for their efforts in preparing not only the tournament, but dealing with the difficult conditions.
"The members have done a great job preparing the course in very wet conditions," he said.
"I am very happy to get another win on the board."
The two day event at Traralgon Golf Club attracted a field of 60 professionals, vying for $20,000 prize money. With such a clear win, Scott said he is looking forward to playing at Traralgon again, hopefully in more pleasant conditions.