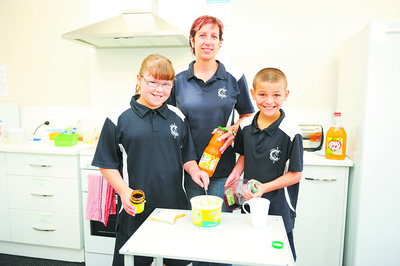 WHEN grade five Churchill North Primary School student Bailee paid tribute to his school's new breakfast club, and everyone who had worked to see it get off the ground, there was not a dry eye in the room.
In an emotional speech Bailee spoke from the heart, telling the audience of students, staff and community agency representatives how much he loved the "opportunity to come to school for breakfast", because, not only did it give him a chance to see friends and have "a great choice of food", but "most of all it gives me something great to look forward to every morning".
It was a fitting reward for the efforts of a number of community agencies and the persistence of Churchill North Primary School education support worker Diane Bosma-Lindgren, who spent most of last year collaborating to provide the school with its first breakfast club.
The club now offers a nutritious breakfast in a warm and social environment to at least 20 children per day, with numbers growing, according to principal Debbie Edwards.
It evolved when Ms Bosma-Lindgren sought external support to advance her long-term breakfast club "dream" – an initiative she knew would benefit a number of students at the school, some of whom routinely started their school day on empty stomachs leading to inevitable behavioural and learning challenges.
With the guidance of Berry Street's deputy regional director Jane Barr, Ms Bosma-Lindgren managed to secure funds through Food Bank Victoria's KickStart Breakfast Club program.
Foodbank Victoria's rural community support officer for Gippsland region Tammy McGhee said the money was provided in the aftermath of the 2009 Black Saturday fires as a means of helping communities "reconnect and return to normal life", and in recognition of the "value of high quality, nutritious food to students".
Ms McGhee connected the school to Morwell-based Foodbank agency Theodora's Cheerful Givers, and workers Pat Quirk and Cheryl Clark set about organising the provision of food to the school program.
The team effort was evident at last week's official launch of the program, with representatives from those agencies joining the school community for breakfast and enjoying first-rate service from its 'breaky club kids'.
Ms Barr also used the launch to honour the work of Mr Quirk, who recently retired, presenting him with a Certificate of Appreciation and telling those gathered he had been a "tireless advocate for bringing resources" to members of the community.
Ms Edwards said the establishment of a breakfast club had been a "huge journey" with humble beginnings, starting in a "pokey little less than desirable venue" before more recently progressing to a new purpose-built building in the school with a spacious kitchen, equipped partly with whitegoods secured through a Salvation Army grant.
Today the breakfast club is hive of morning activity and Ms Bosma-Lindgren said students who attend "all know the drill", contributing to serving food and cleaning up.
For her part, the effort has been more than worthwhile. Arriving each day to the "smiling faces" of students ready for breaky club, and "the happy sound of children chatting and eating", is a "beautiful start to the day," she said.