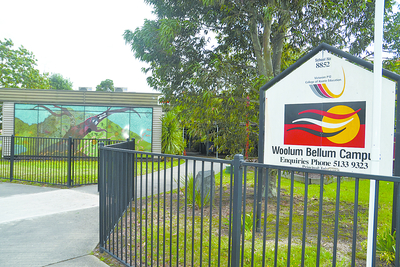 Morwell's Woolum Bellum College has hit back at a media report portraying the school as a waste of money, saying it showed a complete misunderstanding of the Latrobe Valley's young indigenous populations' needs.
This comes as National Assessment Program, Literacy and Numeracy results released last week identified the school's students as the second most disadvantaged in the state.
The report findings, published in Friday's The Age, said the college received "more government funding per student than any other school in the state" while achieving 56 per cent attendance records.
College principal Matthew Snell acknowledged while there was room for cost efficiency improvements, he also said the school was dealing with "the second most disadvantaged cohort of students in the state", and the attendance levels needed to be put into "context of the teenagers the college was enrolling, all of which have struggled in mainstream education".
"It's not uncommon for some kids not to be in school for up to a year before they come here," Mr Snell said.
Woollum Bellum College, a 'pathway' school for year 7 to 10 students, aims to reintegrate students back into mainstream education or vocational pathways, serving the second most disadvantaged students in the state, according to the Index of Community Socio-Educational Advantage,
According to the Federal Government's My School website, the ICSEA is a "meaningful" comparison scale developed for My School which "accounts for the occupation and education level of parents and carers, and/or socio-economic characteristics of the areas where students live".
My School reports said, the school received $1.16 million in state and federal funding, equating to $82,277 per student, for the equivalent of 14 full time students enrolled last year – eight times the state average.
Mr Snell said the majority of funding went to staffing needs, which with fluctuating enrolment levels throughout the year, were engaged on a term by term basis.
"We are very happy with the amount of students who come to us, worked with us, and are now back in mainstream systems," Mr Snell said.
"All our year 10s from last year, bar one, are currently engaged in other employment or education facilities," he said, adding 2010 resulted in "similar figures".
"At the end of the 10th year, if there's no pathway for a student, we try and hold on as best we can; we're not giving up on a student who hasn't found a placement."
"What's most important is we get these kids re-engaged with some pathway; we are supplying experiences with new skills within our structures for these students; some of these kids, if they weren't at our school , they wouldn't be at any school."
Indigenous educator Chris Sarra was quoted in The Age article as saying it was "unfair to plough so much money into Koorie schools when the vast majority of indigenous students received a tiny fraction of that amount at mainstream schools".
However, Woolum Bellum College council president Dr Doris Paton said the comment completely ignored the high demand need of Latrobe Valley's teenage Koorie population.
"(Mr Sarra) has missed the role the school plays in these kids' lives; he has not focused on the individual needs of Koorie kids in our region," Dr Paton said.
Mr Snell said the media attention came at an unfortunate time, with an independent review of the Morwell school, along with sister colleges in Swan Hill and Mildura, underway, assessing whether the colleges achieved value for money.
He would not comment on likely outcomes for the review, but expressed concerns how recommendations would affect the school's ability to serve the regions' needs.
"We do acknowledge there may need to be changes, and we are looking forward to the review to improve overall effectiveness of the school."