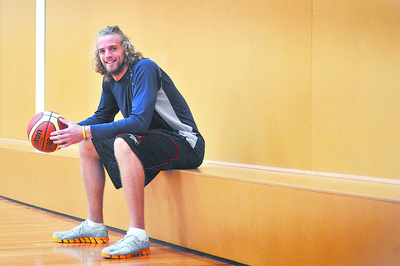 Former United States division one college basketballer Russell Permenter has signed up to play with the Latrobe City Energy for the 2012 season.
As a child, Permenter tried many sports including baseball and football, but he never really "got into" them.
The 23 year-old said he always felt most at home on the basketball court, and when his height increased to a towering six-foot nine inches, he knew he had found his calling.
"There's something about basketball that I just love," Permenter said.
"It's always been there for me through everything; now I want to give as much back to the game and people who play it as possible."
Last October, Permenter was playing basketball in China when he met Energy player Jarryd Moss.
The two became friends, and when Permenter expressed a desire to see Australia, Moss arranged for him to speak to the Energy.
He quickly agreed to play and has not regretted the decision.
"When I arrived here two weeks ago, I loved the place straight away," he said.
"It's not too far from the city, or the beach, and I love having the openness around me.
"There's a certain solitude to it that I enjoy."
During the year, Permenter is also keen to involve himself in the community.
"Down the track I would like to mentor kids who are in need of guidance or who may have had problems," he said. "We've all had our problems and I'm no different. "I'd like to help them realise whatever dreams that they have."
Upon his arrival in Churchill, the first thing Permenter observed was the clarity of the night sky.
"In Austin, Texas, you can't really see the stars that well," he said.
"But here they're all lit up – it's amazing."
Between now and November, he hopes to see as much of Australia as his schedule will allow.
"It seems like such a beautiful country, I want to go up north too," he said.
"I'm really excited to be here."
Permenter is currently offering one-on-one coaching sessions and is keen to work with youth groups and coaches throughout the year.
School holiday clinics will be held at the Traralgon stadium on Thursday 12 and Friday 13 April from 10am until 3pm.
If you would like more information email Mick Forester at mickforester@hotmail.com. To enquire about sponsorship for teams or community programs phone Joanie Smith on
0439 300 500.