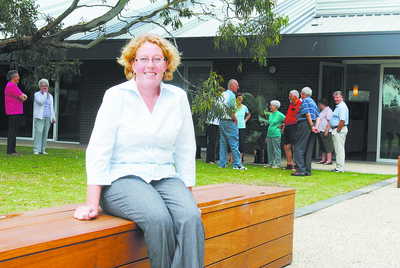 Gippsland builders Kirway Constructions' shock closure is a "slight hiccup" for the developers of the Dalkeith Heights retirement village project, Grace Bruce and JL Macmillan Memorial Home.
According to Grace Bruce Homes chairperson Ray van Poppel, the work undertaken by Kirway in the third stage of Dalkeith Heights was 85 per cent complete.
"At present, we've been held up by about a week (in terms of progress on the units)," Mr van Poppel said.
"Before (Kirway) wound up, they estimated it would take them six weeks to finish.
"We expect things to get back on track soon.
"We will have a quantity surveyor take a look and estimate the outstanding value of work; it's just fit-outs and finishings that need to be completed."
Mr van Poppel assured the public residents were not immediately affected by Kirway going into voluntary administration.
Dalkeith Heights village manager Vanessa Marshall said up to four prospective residents were affected by the delay in completing their units, although all structural work had been completed.
"We are the developers of the project, not the builders; Kirway are the ones who have gone into administration, not us," Ms Marshall said.
According to Mr van Poppel and Grace Bruce Homes acting chief executive Maree Lee, there had been no indication things were going pear-shaped with Kirway.
"We found out when they did," Ms Lee said.
"They have been involved in the project since they built the Dalkeith Hostel several years ago, and we've always had a very good working relationship with them," Mr van Poppel said.
"We feel they've done the right thing by us."
The management of Grace Bruce Homes said they were looking forward to the completion of the multi-million dollar Dalkeith Heights development.
"We have two more stages to go on the project; we are halfway through building the 153 units as planned," Ms Lee said.
"What has happened to Kirway is unfortunate, and has slowed things down for us, but what they have done for us is beautiful and we have no problems with the quality."
Ms Lee said the trust was not owed anything by Kirway.
"Some of the prospective residents had their names down for the units, which are on a 49-year lease; we can't afford to over-capitalise because we are a not-for-profit trust," she said.
Ms Lee said in the future, a tender process will be opened for other local contractors to step in.
"We are a local community business; to the extent that we can, we will support the local community because we rely on each other," Mr van Poppel said.
"We are talking to the existing sub-contractors about what it would take to complete the work; no doubt we're in a good position and can finish without impediment on the time frame."
By the end of the year, the management of Grace Bruce Homes are looking to push ahead with more units as demand over the last three years has been consistent.
At present, Dalkeith Heights is home to more than 60 residents, with new residents moving in every month.