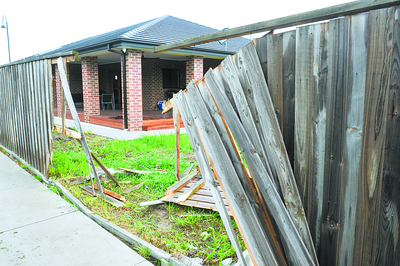 LISA Pavlich was enjoying a rare moment of quiet on Friday morning when her peace was literally shattered by a utility vehicle crashing through the front bedroom window of the new Morwell home she shares with her husband and three young children.
Still in a state of shock when she spoke with The Express hours later, her home invaded by police, insurance agents and media, the new mum could only count her blessings: Her four-day-old baby boy Kingston had earlier been sleeping in his bassinet in the same room that now accommodated a Mazda utility and widespread debris.
Adding to an already distressing scenario was the unlikely incident of a second, unrelated, crash on the property within hours of the first, when a white BP Commodore tore out a large section of the property's back fence before leaving the scene without stopping.
Ms Pavlich and her husband Steve moved into their new home, on the corner of Bridle and Crinigan roads, in January.
Both were wary of the site's close proximity to a roundabout on Crinigan Road and had raised concerns with authorities about the 80-kilometre speed limit on that section of the road, so close to homes.
Ms Pavlich had also phoned Latrobe City Council to push for the erection of a higher fence alongside the property.
On Friday, the young couple said they hoped the near tragic turn of events that morning would support their push for altered speed zones, safety barriers on the road and higher fencing.
Police at the scene supported their push for change "given the circumstances".
Though Friday's accident was traumatic enough for Ms Pavlich, she was acutely aware of how much worse things could have been.
Kingston had been sleeping in his bassinet in her room until that morning when, on instinct, she decided to try putting him to sleep in the cot in his own room.
The chaotic scene in her bedroom was testament to just how fortunate that decision turned out to be, with large chunks of brick and debri lying right beside Kingston's bassinet.
"He would have been killed instantly," Ms Pavlich said.
She said only moments before the accident her four-year-old son Ashton had also gone into her bedroom to check on the baby, thinking he was sleeping in his bassinet.
Ms Pavlich said her boys were sleeping when she heard the violent thud of what she first assumed was thunder.
Upon investigation, Ms Pavlich realised a vehicle, the male driver, and sole occupant, still at the wheel, had smashed through her bedroom window, invading much of the room
"I was just in shock," she said.
"I'm sure I probably swore but all I could think was 'thank God I moved Kingston'."
Ms Pavlich phoned her husband, who had not long left to go purchase building supplies.
In her shocked state Ms Pavlich was unable to recollect further details and, until he arrived home shortly after, he didn't know whether his family had been harmed.
Though he had certainly "had better days", Mr Pavlich said he was grateful "no-one was hurt".
"It's all repairable," he said.
He was hopeful structural assessments would determine it was safe to remove the vehicle on Friday so the room could be boarded up, pending repair.
Ms Pavlich said the events of Friday would not "defeat" her, though she said the incident would have been "much harder to deal with if it had been one of the children's bedrooms".
Police at the scene said they expected the driver of the utility – who the Pavlich's said had been "very apologetic" – would face court, though investigations were continuing and the nature of charges had not been determined.
The road's wet conditions were considered a factor in the accident.
Police said they also knew the driver of the vehicle responsible for the second accident, which removed part of the property's side fence, and were in the process of locating the driver.
Juggling her young brood and trying to digest the mayhem of her morning, Ms Pavlich said she was just trying to quell her superstition.
"I'm waiting for something else to happen," she said. "Don't things happen in threes?"