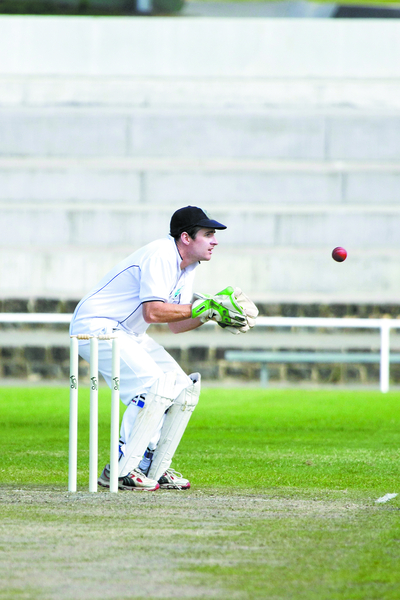 After thrashing Latrobe by 130 runs yesterday to win its seventh consecutive TRUenergy Yallourn Cup, Moe is already thinking about next season.
It was Moe captain Rob Phoenix's eighth premiership at Moe and his sixth consecutive one as captain, taking his personal premiership tally to 11.
Yesterday's premiership was the ninth for Moe veteran Matt Clarke, as he edged even closer to taking a staggering 900 first grade wickets.
His 2/8 off eight overs in the grand final took his tally to 888.
On Saturday, Rob Phoenix won the toss and had no hesitation in batting after the start was delayed by more than an hour and a half.
Openers Tom Long (44) and Dale Walshe (19) were in no hurry to score runs, and Kris Wells broke the opening partnership just before the lunch break.
Moe went to lunch at 1/55 off 33 overs and Andrew Philip (48) and Long continued to build a score.
Latrobe got the break they were after when Ian Kennedy had Long run out at 84.
Phoenix, who had two not outs totalling 130 against Latrobe this season, was bowled by Nick Celima and Johnson was quick to follow six runs later.
Aaron Walshe (17), Paul Cake (27) and Chad Williamson (22) added valuable runs to Moe's final tally of 9/222 off 100 overs.
Williamson was a surprise selection for Moe, replacing the talented but out of form Aiden George.
Brendan Evans was Latrobe's best bowler taking 4/52, but injuries to Anthony Bloomfield and Kris Wells marked a turning point in the game as the Sharks were left two bowlers short.
Latrobe started its innings yesterday with Bloomfield being allowed a runner; however the umpires ruled that Wells carried his injury into the match and he was therefore denied the privilege.
Johnson soon had Latrobe on the ropes when he trapped Justin Vajler (1) and Kaushik Aphale (0) in front and the Sharks were 2/2.
Ian Kennedy made 15 but Bloomfield was having difficulty using his feet and became Johnson's fourth victim followed by Nick Celima as his fifth.
Rob Phoenix praised the courage shown by Bloomfield who has clearly batting in considerable pain, but according to Phoenix such actions are typical of a champion player.
Matt Clarke was his usual economical self taking 2/8 from eight overs including the wicket of Mark Lawrence (0) in his first over.
Adam Duncan (17*) and Brendan Evans (10) helped the tail to wag when it was all over and Tom Long ended a disappointing match for Latrobe when he bowled Evans.
Latrobe was all out for 92 in 59.4 overs.
Taking 5/12 off 17 overs, Chris Johnson was awarded the Matt Clarke man of the match medal.
Second grade
Rawson celebrated its return to Central Gippsland cricket, with a three-wicket win over Mirboo North to take the second grade premiership.
The Kookaburras reformed this season and also fielded a junior team in the International Power GDF SUEZ under 13 Hazelwood Cup.
Mirboo North won the toss and Chris Anders (23) and Dave Woodall (23) gave them a 39-run opening partnership before Woodall was dismissed.
Wickets fell at regular intervals as Sonny Ayton (3/22) and Alex Sword (3/9) were dangerous with the ball.
Rawson lost Wayne Warman (6) with the score on 20, but when Sword (34) went at 57 the Kookaburras had a mini collapse taking the score to 7/83.
Dylan Lee (28*) and Luke Casey (10) gave the Kookaburras victory with less than 15 overs to spare.
Alex Sword was awarded the Anthony Bloomfield man of the match medal.
Third grade
Moe beat Latrobe in a nail biting finish, to clinch its third consecutive third grade premiership by just one run.
The Sharks bowled tightly and had the Lions in trouble at 4/23, then later at 8/95, before Frank Manducci (32) and Shaun Curtis (13) put on a match-winning 39-run partnership.
Chasing 140 for victory, the Sharks were given a bright start by Dean Burridge (29) with a 32-run opening stand.
Man of the match Simon Shaw (38*) and Jeremy Brewer (20) gave the Sharks hope, before Brewer was caught by Manducci off Jayde Leech with the score on 122.
Latrobe still had two overs to get a couple of runs, but Nathan Nikodemski was run out by Wayne Summersgill leaving Latrobe one run short, giving Moe the premiership.
Colts
Hazelwood North won the Colts premiership, beating Mirboo North by 37 runs in a low scoring contest.
The Razorbacks batted first, with Brendan Mason (38) and Zayne Dowdell (19) batting well until the Buxton brothers Jesse (3/15) and Piers (3/9) tore through the order and they were all out for 104.
Thomas Taylor was the only Mirboo North bat to reach double figures, as the Day brothers, Dylan (3/11) and Lachlan (2/4), cleaned up.
The Alex Jones man of the match medal was awarded to Brendan Mason (2/17).