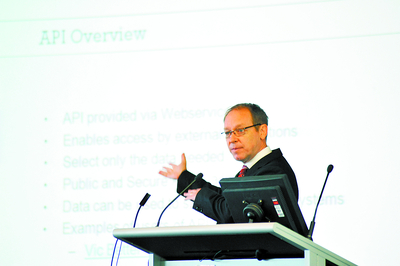 THE brave new world of electronic health, and what it means for Gippsland, was explored at a major forum at Monash University Gippsland this week.
Guest speakers at the Gippsland eHealth forum provided information to more than 100 local health professionals about the benefits and impacts of eHealth reforms.
The forum also explained how eHealth – the use of online and mobile technology to deliver health services and information to the community – was being adopted and what opportunities existed for larger geographic areas like Gippsland.
The forum was organised by Primary Care Partnerships from Central West Gippsland, East Gippsland, South Gippsland and Wellington as well as Central West Gippsland Division of General Practice, East Gippsland Primary Health Alliance and General Practice Alliance South Gippsland.
One of the forum organisers, Claire Davis, said eHealth was starting to play a significant role across Gippsland.
"While eHealth will never replace the services provided face to face by local GPs, practice nurses, allied health professionals and our hospital system, there is no doubt it will change the way health services are delivered to the benefit of the community," she said.
Topics on the day included a telehealth demonstration by local GP John O'Donoghue, a discussion about how eHealth would impact on the way health care providers worked and an overview of the National eHealth Strategy, including implementation of the Personally Controlled Electronic Health Record.
The latter system, being rolled out by a Federal Government body, will provide an electronic history of individual medical histories, stored and shared through a network of secure connected systems.
"We are entering a new era of health care and how it is delivered," Ms Davis said.