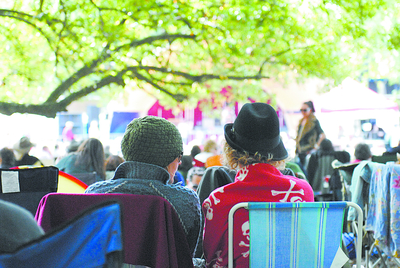 The Lyrebird Arts Council's 'One Perfect Day' concert certainly lived up to its name.
Sunshine and a cool breeze combined with blues-driven music made the day a truly unforgettable experience.
The festival appealed to young and old, with some families having three generations gathered on a picnic rug.
Festival goers appreciated the 'bring-your-own' food and alcohol, which allowed people to save on costs.
One of the most popular sections of the festival was a large tent where people could take photos on their mobile phones and print them off, then stick them on the 'wonderwall'.
By late afternoon, the wall was full of images of smiling faces and people having a good time.
The Lyrebird Arts Council should be congratulated for its logistical efforts as well as securing such an incredible collection of artists together at Mossvale Park, near Mirboo North.
Australian favourite 'The Bamboos' was full of life as usual, with lead singer Kylie Auldist playing to the crowd with her huge grin and powerful vocals.
After an incredibly quick band turn around, which occurred after each act, American bluesman Eric Bibb lined up supported by Swedish guitarist Stefan Astner.
Bibb won the crowd over with his soulful melodies and moving lyrics, even before he started with his banter.
His topical song 'Flood Water' was extremely popular with the fans, as people stood and clapped his tribute to everyone who has been affected by recent and past floods around Australia.
As twilight set in, the crowd was anxiously awaiting the arrival of headline act The Dirty Three, and to get them through the next few hours was crowd-pleaser Charles Bradley and His Extrordinares.
Every bit the stageman, Bradley's intensity was clearly visible in his singing and on his face, as he pumped through a large repertoire, including a brilliant rendition of Neil Young's 'Heart of Gold.'
While festival staff prepared the stage for The Dirty Three, Bradley jumped down to the crowd to hug and chat with fans – much to their delight.
By 10pm, the man everyone was waiting for, Warren Ellis, appeared on stage to screams and cheers, telling stories as he prepared his violin.
After posing for a few photographs, the award-winning musician and his fellow band members, Mick Turner (guitar) and Jim White (drums), jumped straight into the set with their characteristic brilliance.
Ellis, with his overgrown beard and wild hair, immediately launched into his stage act, high-kicking his leg as he played the violin like a guitar.
The dark red and purple lighting played perfectly to Ellis' antics, adding to the mystery and excitement of the performance.
One highlight among many in the set was the band's performance of their sombre tune 'The Pier (Toward the Low Sun)' which was another experience altogether.
To witness Ellis working a deep, melancholy violin to express the sentiment of the song was another to send shivers down your spin.
After a typically energetic set, The Dirty Three performed an encore to a small crowd of dedicated fans who lingered on.
It was the ideal end to an amazing day, and I will be looking forward to more events of this calibre appearing in the future.