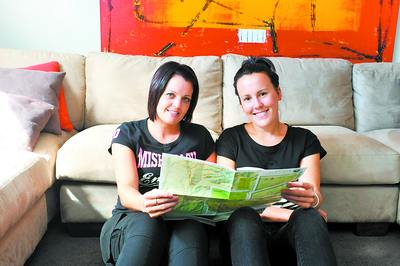 TWO Traralgon netballers could not be more out of place in the dense Papua New Guinean jungle, but Rebecca Crick and Kate Duxbury are counting on their gung-ho attitudes to carry them through.
While the two friends will be joining possibly hundreds of others on the Kokoda Anzac Trek this year, it is a very personal journey they will be undertaking.
Not only will the end of the eight-day trek coincide with Anzac Day, it will also mark the first anniversary of Ms Crick's father's death, after a battle with depression resulted in him taking his own life.
"We're as prepared as we can be," the 33 year-old mother of seven year-old Ayva said, adding they had been readying themselves physically and mentally for the gruelling 96 kilometre trail.
"The scary bit now is the thought of being out there and not being able to speak to my daughter while I'm in the jungle," Ms Crick said.
"We're also feeling the pressure not to let anyone down," Ms Duxbury said, adding their family and the community had been extremely encouraging.
Despite not being regular trekkers, Ms Crick and Ms Duxbury, aged 25, are not letting their apprehension curb their excitement.
Driven by their enthusiasm to raise a target of $5000 for the Black Dog Institute, an organisation assisting those with depression, they will begin their eight-day trek on 17 April and end with an Anzac Day dawn service and "gunfire breakfast" on the Australian High Commission grounds.
George Crick was a longtime Country Fire Authority volunteer with the Traralgon and Traralgon West Brigades, and a Vietnam War veteran.
The women cite Mr Crick's good friend, Traralgon Fire Brigade officer in charge Peter Lockwood, as being instrumental in their awareness and fundraising efforts.
Mr Crick became increasingly ill from December 2010.
"We thought Dad was just having a bad day when he said he'd 'had enough'," Ms Crick recounted.
"If we had known earlier of the Black Dog Institute's work, and were aware of the signs (he was contemplating suicide), we would have sought help.
"Dad never really spoke about (his experiences in) the Vietnam War.
"In general, men don't really speak about their feelings."
Ms Crick said they hoped through their efforts raising awareness and funds, "if one family didn't have to go through what we did, that would be great".
Having witnessed what her friend had been through, Ms Duxbury, whose own grandfather served in World War II, said it was "an honour" to undertake the "very personal journey" with her friend.
The idea for the trek came about six months ago when Ms Crick watched a current affairs program which show someone who had completed the trek.
"I thought about it, and how it would coincide with Dad's anniversary; I pitched the idea to Kate during spin class and she said 'yes', no 'if's' or 'buts' about it," she said.
The two kicked their efforts into high gear this year, booking their trip and commencing fundraising last month.
Their trip is estimated to cost them $5000 each, which the friends said they would pay for themselves; however, the Victorian Returned and Services League last week announced they would contribute about $1000 to each woman.
At present, the women's fundraising total is $3140, which they describe as "overwhelming".
But even more inspiring than that are the messages coming through from their supporters.
"It's unbelievable how many people are affected by depression," Ms Duxbury said.
"We want to show everyone how we can overcome obstacles together and highlight depression and similar disorders."
To support Bec and Kate, visit http://www.everydayhero.com.au/hero_pages/view_posts/kokodaanzactrek
For help or information visit beyondblue.org.au, phone Suicide Helpline Victoria on 1300 651 251, or Lifeline on 131 114.