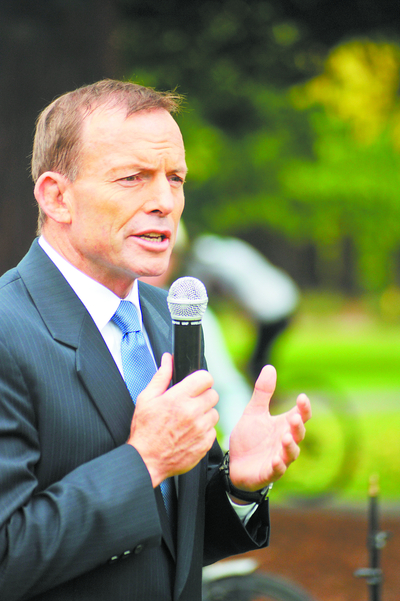 FEDERAL government proposals to close brown-coal power stations amounted to "economic lunacy" and would be scrapped by a Coalition government, Federal Opposition Leader Tony Abbott said this week during his visit to the region.
While he maintained the Coalition was committed to a carbon emissions reduction of five per cent by 2020, in line with the government's stated targets, he said it would not be achieved by "closing down the affordable power sources on which Australia's economy depends and which families' cost of standard of living depends".
Though a Coalition government would encourage emissions-reduction technologies at local power stations, Mr Abbott said "in the end, we need the power and it's got to be affordable and the brown coal-fired power stations of the Valley are a very important source of affordable power for the Australian industry and Australian families".
"Affordable power is one of Australia's great competitive advantages in the world and the last thing we should be doing is jeopardising our status as one of the affordable energy countries of the world," he said.
When asked by The Express if a Coalition government could be expected to commit significant funding support to clean coal technologies, Mr Abbott said "certainly in government we were committed to clean coal technologies", adding "one of the disappointing things about the current government is that the $10 billion set aside in the kind of 'Bob Brown bank' excludes clean coal."
"We certainly think clean coal is important but regardless we have got to continue to be a country with affordable power and that's why the Latrobe Valley is significant," he said.
It is believed the 'Bob Brown bank' referred to by Mr Abbott is the $10 billion Clean Energy Finance Corporation designed to "drive innovation through commercial investments in clean energy through loans, loan guarantees and equity investments", according to a government website.
Mr Abbott claimed the Federal Government intended to spend $2 billion "not to clean power stations up but to close them down".
Recognising both social and economic indicators for the Valley showed the area was in a depressed state, he said "not proceeding with the carbon tax" was "the first and foremost thing the Federal Government can do for the Latrobe Valley".
"If it has $2 billion to spend in the Latrobe Valley, it should spend it on creating jobs, not destroying jobs…spend it building industries up and not closing industries down," he said.
Mr Abbott's comments referred to the Federal Government's 'contract for closure' program which seeks to retire 2000 megawatts of coal-fired electricity capacity by 2020, and could result in the closure of a local power station.
To date the government has not revealed how much it might spend on the program, saying only that is has "allocated a capped amount in the Contingency Reserve beyond 30 June 2016" to deliver the program, but some reports have speculated sums as high as $3 billion.
Mr Abbott also claimed the "government's own figures" showed carbon emissions would not reduce under the carbon tax but would instead rise from the current level of 578 million tonnes per year to 621 million tonnes in 2020.
"The only way we will meet our five per cent emission target is by spending some $3.5 billion buying foreign carbon credits, which strikes me as extremely counter intuitive…and not exactly a common sense way to progress," Mr Abbott said.
"So we will get it (the target) and we will get it without closing down the power stations of the Latrobe Valley."
While Mr Abbott did not say how the Coalition would reach its target, its Climate Direct Action Plan claims more than 60 per cent of reductions would be "taken up by soil", that "clean energy hubs" would be established in the Latrobe Valley, Hunter Valley and Central Queensland and there would be "no new or increased taxes", though the plan would cost $3.2 billion to implement over four years.
Meanwhile the Latrobe Valley Sustainability Group has implored Mr Abbott to stop criticising the CEFC and start supporting "big solar as a way to guard ourselves against coal's uncertain future and the threat to farmland posed by coal seam gas".