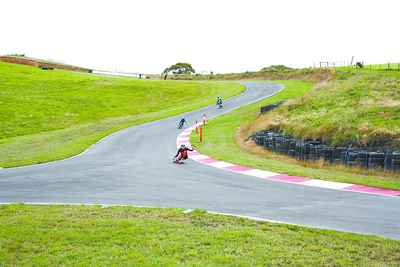 Over the last few months, longboarding has slowly gained a following in the Latrobe Valley, according to avid longboarder, Troy Gill.
In February, The Express spoke to Gill who was looking for people to longboard with in the area.
Since then, Gill has started a Facebook page and has organised social rides with people who he has met through the group.
Recently, Gill and his crew made significant progress in their quest to get a professional longboarding event to the Valley, securing the use of the Haunted Hills hill climb track from the Gippsland Car Club.
On Sunday, Gill and other Valley longboarders were joined at the track by professional riders from Melbourne, including Daniel Guzzardi, Matthew Cassar and Chris O'Brien, who were there to assess the track's suitability for a professional race.
"The point of the day was really to see if the track was worthy of holding a race," Gill said.
"They (professional riders) wanted to check the surface, the length of the track, the speeds you could reach and how technical the course was."
According to Gill, speed was no problem with riders hitting up to 70 kilometres per hour.
However, Gill said the track was not as long or technical as most professional longboarding race tracks. Despite this, he was positive the track could be used for some type of event.
"The jury is still out on whether they would hold a professional race on this track, but I'm pretty confident something will happen," Gill said.
"The track is about 600 to 700 metres long, and for most longboard races you are looking at about 1.5 to two kilometres.
"The surface is fantastic though, so it's just a question of whether you would get many professionals coming down here for that."
Regardless of whether a professional race can be organised, Gill said everyone who attended "had a ball on the track".
"It was such an awesome day," he said.
"(At one stage) I came off pretty hard… I made it around the corner but the board came lose under my back foot on the straight and I hit the ground, but that's all part of it."
At this stage Gill does not have any other longboarding days planned, but hoped to get permission to use the track again in the near future.
In the mean time, Gill will continue to search the Valley for useable hills to ride on.
The Facebook group can be found by typing 'Latrobe Valley Longboarders' into the Facebook search engine.