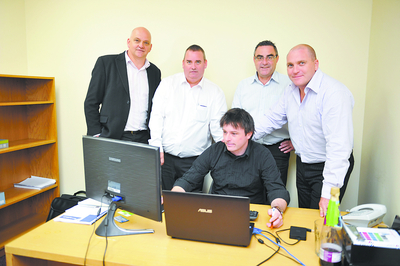 IT may be doom and gloom for the construction and mining sectors here in the Latrobe Valley, but two local entrepreneurs may be at the forefront of game-changing marketing strategies, targeting new media.
It was recently announced former Australian Stock Exchange-listed company Sofcom Limited had purchased a 51 per cent stake of Traralgon-based business Miiy Pty Ltd for $5.5 million, a company founded by locals Rick Hodgskiss and Leon Davies.
"It's a reverse takeover strategy," Miiy's chief executive Stephen Prideaux told The Express recently.
This means Sofcom, a shell company which purchased a majority stake in Miiy, would take on the latter company's business and seek re-listing on the local stock market in the future under the Miiy brand.
Miiy co-founder Mr Davies said they would seek re-listing in the next eight to 10 months.
"Our expectations are to set up an IT hub in Melbourne, but our Traralgon office will also expand," Mr Davies said, adding the company would be based locally for now.
"We're expecting to double our staff here to about 20 or so, with the potential to grow; our programmers, coders and customer service staff will be based here."
Mr Prideaux added the company hoped in about nine months from now, it would have more than 55 staff, with recruitment "starting now".
"We estimate our business turnover would be about $300 million to $400 million a year," he said. Miiy began, humbly, at the kitchen table of Rick Hodgskiss about two-and-a-half years ago, with Mr Davies at his side.
The company provides website building, mobile phone applications, mobile websites, e-coupons and ticketing.
Citing their vast experience in the local retail scene, the observation more people were using smartphones and the desire of small and medium enterprises looking for cost-effective means of remaining competitive, the duo believed their ideas had a solid chance at success.
While Sofcom's activities had been voluntarily suspended since June 2005, Mr Prideaux said the company had since undergone a complete change.
The company was listed in September 2000 and was chaired by former Victorian premier Jeff Kennett at the time.
A Sofcom announcement to the Australian Stock Exchange in October last year indicated it was in talks with other parties "interested in utilising the company as a vehicle for listing on ASX".
Sofcom's purchase of a stake in Miiy follows failed bids for reverse takeovers of two other companies, tracking and monitoring solutions company Bluechiip Limited and online gambling company 2up Holdings.
Now, with synergies between the two companies and the financial backing of Sofcom, the team at Miiy are confident they have the opportunity to pick "low-hanging fruit" in the SME market.
"It is estimated about 70 per cent of small businesses don't have websites; they aren't discoverable online," Mr Prideaux said.
"We can provide a competitive edge to SMEs to access tools and come up with a cost-effective online strategy to compete against the big guys.
"In tough times, small businesses can shut the door and give up, or find low-cost solutions which will assist them in differentiation."
"We will allow SMEs to punch above their weight," Mr Davies said.
"Additionally, we have IT talents here in Gippsland, which we will draw on (for expansion)."
Future plans for the company include possible expansion into international markets.