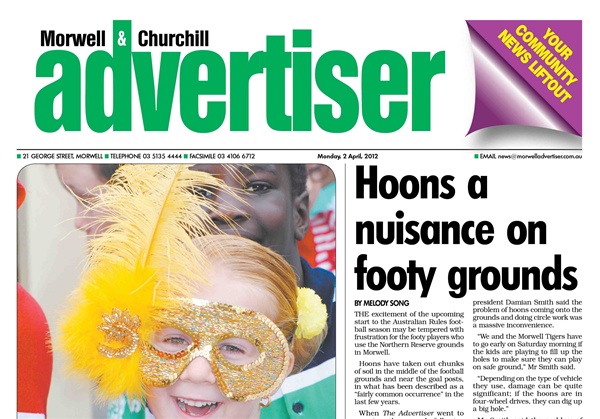 THE excitement of the upcoming start to the Australian Rules football season may be tempered with frustration for the footy players who use the Northern Reserve grounds in Morwell.
Hoons have taken out chunks of soil in the middle of the football grounds and near the goal posts, in what has been described as a "fairly common occurrence" in the last few years.
When The Advertiser went to examine the grounds following a phone call from a concerned resident, there was clear evidence of fresh tyre tracks running around the reserve, and discarded food wrappers from a popular fast-food chain on the ground.
The Church Street, Morwell resident, who did not wish to be named, said she was woken about 11pm last Wednesday after hearing the loud roaring of a vehicle.
"My son rang me (on Thursday morning) to ask what had happened to the reserve; when I looked, I saw big gouges in the ground where the kids play footy," the resident said.
"The grounds were run down for many years but is looking fantastic now because of council, so it's a pity we have to put up with (inconsiderate people) who want to do wheelies on public fields."
Morwell Youth Football Club president Damian Smith said the problem of hoons coming onto the grounds and doing circle work was a massive inconvenience.
"We and the Morwell Tigers have to go early on Saturday morning if the kids are playing to fill up the holes to make sure they can play on safe ground," Mr Smith said.
"Depending on the type of vehicle they use, damage can be quite significant; if the hoons are in four-wheel drives, they can dig up a big hole."
Mr Smith said the problem of hoons had been getting worse of late.
"The problem is there are no boundary fences to keep the hoons off the grounds," he said.
Meanwhile, Latrobe City Council general manager recreation, culture and community infrastructure Grantley Switzer said in the past, the Northern Reserve had fencing around it, but due to the unique nature of the reserve in being so big with so many entry points, erecting fencing now would be "quite an expensive exercise".
Saying the incidents were "enormously frustrating and costly," Mr Switzer reminded the public the end victims were the children who used the grounds for sporting activities.
"It also comes at a cost to ratepayers," he said, adding this latest incident was the third he had heard of at the reserve in March.
"There are laws which prohibit people from driving, riding motorcycles or horses on reserves," he said.
"We rely on the surveillance from residents and the community; the next time something like this happens, (residents) should phone the police."