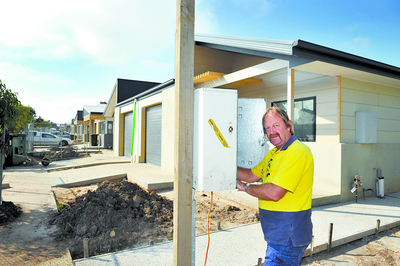 "DISAPPOINTED" was the first word expressed by Latrobe Valley painter Ken McAlpine when he realised he was being laid off following the collapse of Kirway Constructions.
However, his spirits were soon lifted when he was contacted to finish a multi-million dollar project he had previously been working on as a sub-contractor of the former construction company.
Grace Bruce and JL Macmillan Memorial Home were towards "the finishing stages" of their multi-million dollar retirement village, Dalkeith Heights in Traralgon, when builders Kirway Constructions filed for voluntary administration.
While the "unfortunate" announcement instilled fear in the construction industry, more than 30 tradesmen were re-hired to complete the retirement village.
"I'm quite grateful that I was called back to finish the project… there weren't many jobs when Kirway went under and I was a bit disappointed when I was laid off but what can you do," Mr Mcalpine said.
"We put a lot of pride into our work so it's good to be able to come back and finish it off."
For electrician Geoff Smith however, beyond losing the pride he put in his work was the thought of losing "thousands of dollars" on equipment alone if he permanently lost the Dalkeith Heights project.
"I've been working on Dalkeith (Heights) for eight years now, so for sure it's a good relief to come back," Mr Smith said.
"I bought all the gear, paid for all the equipment and everything, so if I didn't get to finish this job… I would have lost all the money spent on equipment and would have to pay to send it back."
Mr Smith said he had spent more than $30,000 on 14 air conditioners, which would now be utilised by Grace Bruce to finish 27 of 74 houses in the retirement village.
He further added the completion of Dalkeith Heights presented itself at a time where "there were no jobs in the Valley" – a fear echoed by Dalkeith Heights painter Harley Devlin.
"If I didn't have this job I would have to be going to Phillip Island every day," Mr Devlin said.
"I have a seven month-old daughter so now that I have this, I get to spend some more time with her."
Grace Bruce acting chief executive Maree Lee said the re-hiring of its former employees, despite facing a sudden setback, was a "reflection of the company's philosophy".
According to Ms Lee, the board of management at Grace Bruce had "firmly decided… to try as hard as possible to keep our current hands".
Dalkeith Heights, which was initially meant to be completed by the end of this month, will now be finished next month, according to Ms Lee, who added the organisation was pleased to have its own workers back on board.