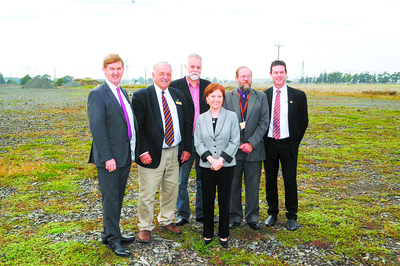 SEVERAL of the Latrobe Valley's key leadership groups have released action plans for the region's future as they seek to fight forecast economic declines.
The Latrobe Valley Transition Committee has called for public comment on its 'Directions for Latrobe Valley Transition' document paper, released this month, while last week the Gippsland Regional Plan Leaderhsip Group also promoted its new document identifying major "shovel ready" projects for the region requiring early government support.
Both groups include high level regional leaders across industry, education and local government, while the LVTC is supported by state and federal interdepartmental committees.
The groups aim to deliver a "regionally-cordinated" response to governments on identified priorities for Gippsland and the Valley.
The LVTC will report to the Joint Ministerial Forum, led by Deputy Premier Peter Ryan and Federal Regional Australia, Regional Development and Local Government Minister Simon Crean, by mid-year.
Public consultation forums on the LVTC discussion paper will be held across Gippsland this month with Latrobe City's scheduled for Tuesday, 24 April.
That discussion paper refers to economic modelling projecting a decline in the annual growth of the Valley's economy and employment by 2021 and 2031, with the Gross Regional Product contribution of electricity and coal mining, and education and training sectors tipped to decline.
The paper points out, however, other research indicated the education and training sectors might "actually grow in the medium term".
The paper said forecasts indicated, without intervention, the Valley's economy and employment trends would "lag behind the rest of the state" however it proposed a range of strategic directions aimed at intervening.
Key priorities focused on transitioning business and workers in a carbon-constrained economy, including worker transition programs, market development programs and small business development.
Skilling the Valley was also vital and needed to be addressed through implementing Gippsland Tertiary Education Plan recommendations, increasing year 12 completion rates and providing access to information about skills and training opportunities in the region.
Major infrastructure priorities included establishing a Gippsland Integrated Logistics Precinct in Morwell, securing funding for national market and port access-related infrastructure projects and advancing the rollout of the National Broadband Network across the Valley, the paper said.
Strengthening the Valley's innovation and competitiveness as well as attracting and facilitating investment and trade were also key strategic directions.
The GRP Leadership Group's summary of regional projects requiring government support, all were "beyond the capacity of any individual municipality to deliver", and identified not only projects but also their associated costs.
Committee for Gippsland chair Harry Rijs said the document was "not just asking government to do all these projects for us, it sets out how our region will also contribute".
A key area deemed "ready to go" was an upgrade of priority tourism roads, with $74.5 million required for five years, including $16 million for Grand Ridge Road.
Gipps Aerospace Industry funding, $10 million for the Gippsland Logistics Precinct, $65 million for a Latrobe Regional Development redevelopment and $8 million towards the proposed $21 million Centre for Sustainable Studies were also sought in the document.
It also calls for advocacy support in facilitating private sector investment in coal-drying pilot plants, claiming there was already interest in potential projects worth more than $3.5 billion, "with a major scale processing plant creating some 1000 jobs and generating significant exports".
The complete document can be accessed under the submissions section of the Committee for Gippsland's website at www.committeeforgippsland.com.au
Meanwhile, the public consultation forum for the LVTC's discussion paper will be held on Tuesday, 24 April between 3pm and 5pm at Latrobe City Council, 141 Commercial Road, Morwell.