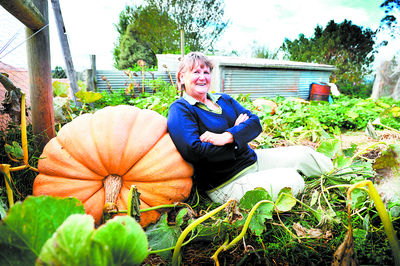 WILLOW Grove resident Chris Williams has been busy growing pumpkins weighing more than 100 kilograms for this weekend's Giant Pumpkin event.
In its fifth year, Ms Williams, who is also the Giant Pumpkin Event committee chairperson, said the idea was floated as a fun community event.
However, it is not all fun with the event becoming seriously competitive among gardeners.
"Everybody wants to win, it is competitive especially amongst the men, in a friendly way" Ms Williams said.
She said the person with the biggest pumpkin had a "great talking point" and "bragging rights".
Ms Williams said many potential competitors reported a lack of female flowers, some having none at all this year.
She said others had pumpkins develop but collapse as they neared maturity.
This year more than 40 giant pumpkins are anticipated to be entered.
Despite most being of the same variety, Ms Williams said there was usually a diverse range of shapes and sizes to weigh.
Last year's winner, Bruce Williams, whose pumpkin tipped the scales at 128kg, will enter again this year.
Judged on weight, a new section for giant zucchinis has been included in the event.
Ms Williams said a feature of the evening was the mystery weight of a butternut pumpkin and pumpkin scones competition.
"Friendly rivalry is alive and well in the district, so come along and share in the frivolity of the evening," she said.
In advice to growers, Ms Williams recommended regular feeding of plant food, plenty of water, protection from the weather and elements, and even a "blanket on them every night to keep them dry".
She said once competitors had scavenged the pumpkins for seeds, a local farmer would feed the remains to pigs.
Funds raised at the event will go to the Westbury Country Fire Authority, which is putting on a barbecue.
The free community event is on this Saturday from 6.30pm at the Hill End Hall.
For more information phone Chris Williams on 5635 2256.