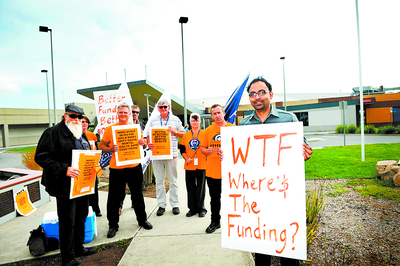 THE campaign for better mental health staffing and wages stepped up this week amid union claims Latrobe Regional Hospital's mental health services unit was being kept afloat by overtime work.
Speaking after two stop work rallies at LRH on Tuesday, Health and Community Services Union assistant state secretary Paul Healey told The Express seven-month-long negotiations between workers and the State Government had stalled and health professionals and support staff were now 23 days into a statewide industrial campaign.
Around 12 LRH mental health workers attended this week's stop work and Mr Healey said their pays would be "docked" as a result.
"We were unable to have any inpatient staff because there is a shortage of staff there," Mr Healey said.
"On that day they were three short in the morning and two down in the afternoon…the unit manager had to work on the floor and couldn't come out either…we told her not to stress and to stay there, keep herself safe and her patients safe".
Mr Healey said that scenario was common to the local mental health sector and formed the basis of HACSU's claims for increased staffing numbers, improved workload management and better wage outcomes.
He said there had been "ongoing staff shortages for a long time" at LRH and "most of the unit is kept running by staff doing overtime and they are getting worn out."
Mr Healey said workers were reluctant to "let their mates down" so they routinely took on extra shifts to manage "lots of additional clients".
"Some of them were assaulted (in the workplace) on the weekend…this is hard work and it is an ageing workforce," he said.
He said LRH had "basically not been supportive" of the local campaign which made it "difficult for people to take action".
"It takes courage to attend these rallies but the workers strongly believe we need a better mental health service," Mr Healey said.
He said Victoria was once recognised as the leader of mental health services in Australia but the State Government's own reporting showed over past years it had dropped to sixth position.
"This work is so labour intensive – it takes time to understand a person's issues, to develop a relationship with them and understand the best way to help them recover…without the time to do this, which is really the best therapy, it becomes a matter of 'here's your meds' and that's the best they can do.
"The staff find that so disappointing, they want to make a difference and help people get well," Mr Healey said.
While negotiations were still at Fair Work Australia this week, HACSU anticipated a "firm offer or position" from the State Government would be "on the table" by tomorrow, he said.
At the time of publication, LRH was unavailable for comment.