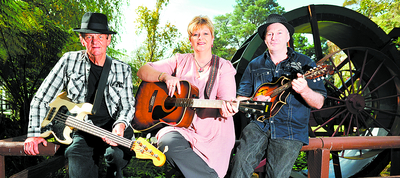 Bluegrass band, Borderline believes the upcoming regional music festival will provided exposure for local musicians.
Borderline bass player Terry Cupples and guitarists Dan Boothman and Carolyn Boothman said the Moe Music Festival was an opportunity for bands to get regional recognition for their talents.
Borderline is an off-shoot band of the Gippsland Acoustic Music Club and will feature in this year's two-day event.
Following the need for a band to play at a community event, Borderline, veterans to the Gippsland music industry formed three years ago and recently received recognition at the Gippsland Country Music Awards.
Their harmonies are inspired by greats such as the Eagles and Crosby Stills and Nash.
Borderline said it hoped to use the Moe Music Festival as a networking event amongst the high calibre of Gippsland artists.
"It can be hard to get gigs for some bands, so this (festival) gets your name out there," Mr Cupples said.
He said time-strapped musicians found it difficult to "plug" themselves, and the regional festival enabled up-and-comers as well as experienced musicians to display their talents.
Mr Boothman said music festivals "make you bigger and better" due to the publicity attracted by the events.
"It gives you exposure because it allows people to hear you," he said.
"We find that people always come up and ask us who we are and we always get some gigs following it."
The band is hoping to release a CD this year and guitarist Ms Boothman said it would play some new music at the festival.
"The Moe Music Festival also allows clubs to showcase themselves and increases membership because it allows people to join up after hearing what they do," she said.
Set to rattle things up will be the Gippsland Acoustic Music Club ukulele group which will take to the stage for its first public appearance.
Due to increasing popularity, the Moe Music Festival has grown into a two-day event.
In addition to jazz, blues, folk and country music featured in last year's festival, a Brass Bonanza will be held on the first day and will showcase local and visiting brass bands and a gala dance will be held in the evening.
Moe Music Festival is on 5 and 6 May; for more information phone Bruce Lawn on 5174 3516 or visit www.moemusicfestival.com.au