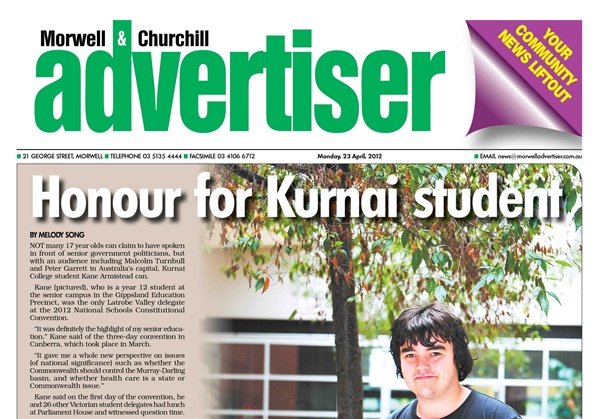 NOT many 17 year olds can claim to have spoken in front of senior government politicians, but with an audience including Malcolm Turnbull and Peter Garrett in Australia's capital, Kurnai College student Kane Armistead can.
Kane (pictured), who is a year 12 student at the senior campus in the Gippsland Education Precinct, was the only Latrobe Valley delegate at the 2012 National Schools Constitutional Convention.
"It was definitely the highlight of my senior education," Kane said of the three-day convention in Canberra, which took place in March.
"It gave me a whole new perspective on issues (of national significance) such as whether the Commonwealth should control the Murray-Darling basin, and whether health care is a state or Commonwealth issue."
Kane said on the first day of the convention, he and 26 other Victorian student delegates had lunch at Parliament House and witnessed question time.
"I was selected to give the official ministerial welcome on behalf of 150 student delegates; after, I was told I'd done a really good job, which is what everyone likes to hear," he said.
"It was a really big honour."
Kane recounted his 10-month journey culminating in the national convention; he had started out representing Iraq in a model United Nations conference at Monash University Gippsland in July last year.
"We had to have caucus with other 'countries' and work out which countries we would back depending on a situation; we had a list of allies and non-friendly states," he said.
"I saw an advertisement for this on television for the regional-level convention and thought it looked interesting; I was then chosen to go to state level at the Melbourne House of Representatives in October."
"After that, I had to write an essay, and received an acceptance letter (to attend the national conference) in January.
"The theme was 'federalism', which was really interesting; it was the next topic (I had to cover) in legal studies, so I had a head start."
Although the Traralgon resident enjoys legal studies and politics, he said it "got heavy" at times.
Now equipped with the confidence and skills of public speaking and negotiation, Kane aspires to be a teacher, and not necessarily of the regular classroom variety.
He has his hopes set on getting into Melbourne University to study commerce and arts after he completes his year 12 education, though he concedes he may not have a direct choice in the matter.
"You've always got to have Plan B," he said.
The multi-talented youth, who also plays the clarinet and saxophone, has also represented Gippsland in the state finals of table tennis three years in a row.
At present, the ambitious teen is mentoring two of the college's year 11 students who are also interested in participating in the constitutional convention. "It was a really exciting experience for me and I will never be able to forget it," he said.
"Looking back at the things I've done, I can only imagine all the things I can do in the future."