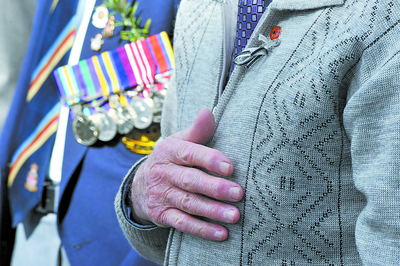 THE chilly weather failed to deter families from the Morwell War Memorial Cenotaph this Anzac Day.
At the crack of dawn, residents, young and old, gathered to say a prayer for fallen soldiers and those who continued to risk their lives for their families and country.
The words "lest we forget" were etched in every resident's mind as Morwell Returned and Services League president Bruce Jeffrey addressed the crowd.
For former Royal Australian Air Force serviceman George Francis, the day signalled "remembering my mates who are no longer with me".
For Morwell police Sergeant David Staple however, the placing of his poppy on the war memorial symbolised his "respect for the sacrifices made to give us our way of life".
Morwell's midday ceremony, dominated by extensive wreath laying, consistently attracted big crowds and this year was no different.
Morwell RSL senior vice-president Les Maher told the crowd recent media articles lamenting a demise in the Anzac spirit were unfounded.
"If you look around today, I think those people need to get out and attend some of these parades," he said.
Morwell's parade this year paid particular tribute to the 70th anniversary of the establishment of the Australian Women's Land Army.
It was fitting then the guest speaker was Major Wendy Jeffrey, of the S02 Workforce Plans – Land System Division, Defence Material Organisation.
Major Jeffrey, who is also RSL president Bruce Jeffrey's daughter, said Anzac Day was an "observance of sacrifice" and "inspired a sense of the sacred".