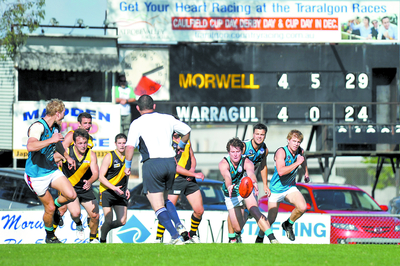 Moe has the chance to win its first game of the season when it fronts Wonthaggi at home this Saturday.
The Lions can expect to be strengthened by the return of gun full-forward Ryan Donaldson and midfielder Gary Blandford.
The inclusion of these two class players will strengthen the Lions against a side that beat Bairnsdale last week.
Donaldson was not expected to play again this season as he had a pin inserted in his thumb last year.
Moe coach Jason McFarlane said Donaldson made the decision to play and hoped no further damage will be caused to his thumb.
The Lions must stick to their new game plan and have shown that when they do have troubled sides like Drouin and Sale.
While they were flogged by premiership favourites Sale last week, they held their ground in two of the four quarters.
An effort that has not went unnoticed by McFarlane.
Wonthaggi, with a host of new faces, started to get its game flowing in the second half against Bairnsdale last week and clocked up a 31-point win.
Aaron Ware starred at centre-half forward for the Power with eight goals, and Chris Robinson is likely to get the job on him this week.
Robinson has settled in well at half back and will keep Ware honest.
James Blaser is getting better with each game and will team well with Gary Blandford in the midfield.
Moe will keep the Power honest with its never-say-die attitude, and has a wonderful opportunity to get its first points of the season.
Leongatha v Morwell
Morwell faces the might of Leongatha in round three and after the Parrots' demolition of Traralgon last week, will have an uphill battle.
Damien Kerr is well aware of Leongatha's form, but will use this match to get the team sticking 100 percent to the game plan and tune up for the games against Bairnsdale and Moe in the next fortnight.
Morwell will not let Leongatha get away easily, showing that when it gets its flow-on game going, they can match it with any team in the league.
Tom Crosby has been a good recruit and youngster Boyd Bailey has impressed Kerr.
Leongatha has a host of talent under Will Thursfield to work with and the return of goal-kicker Dwayne Holt is another bonus for the Parrots.
Last season the Parrots were just short of being premiership contenders but it may be a different ending this year.
Bairnsdale v Traralgon
Traralgon travel to Bairnsdale to play in a twilight game and are still licking its wounds after capitulating against Leongatha in the last quarter.
Last time these sides met at Bairnsdale it was a thrilling draw, but in 33 times they have met the Maroons have won 31.
The Maroons will be without Josh Jennings but will have the general of their defence Jaime Aitken back after illness.
Michael Burge, Mark Collinson and Mat Llewellin will also be back against the Redlegs who put up an improved performance against Wonthaggi Power.
Collinson's VFL team has the bye.
Missing will be Danny Campbell who faces the Tribunal this week and could be missing for a few games.
Traralgon coach Josh Jennings said he did not see the incident but said his club takes a dim view of the alleged behaviour.
Sale v Drouin
Sale is home to Drouin and the Hawks have won six of their past seven encounters and have won its past two at Sale.
At this stage of the season last year, the Magpies were premiership favourites but a shocking run of injuries saw Drouin bundle them out of the finals by a record-breaking 73 points.
Warragul v Maffra
Warragul is home to Maffra and if taken lightly, the Eagles will suffer the consequences against the improved Gulls.
The inclusion of Ben Hughes has been a great recruiting bonus for Warragul and it will take a very good defender to keep him under wraps.
Maffra has its own match winners up forward in Daniel Stubbe, Jack Tatterson and Adrian Burgiel.
At this stage of the season, the co-premiership favourites should win but there is no doubt the young Gulls will cause a few upsets before season's end.