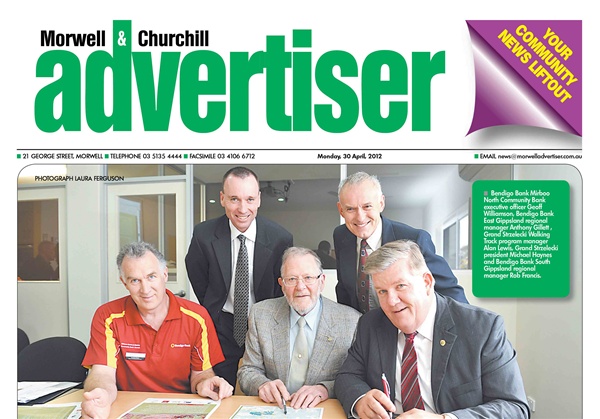 THE significance and future of the Grand Strzelecki Track to the region has been cemented after a local bank contributed an additional $6000 towards the maintenance and success of the track.
Last Monday, representatives from the Grand Strzelecki Track Inc and Bendigo Bank attended an intimate ceremony at the Mirboo North and District Community Bank branch of Bendigo Bank to formally announce the additional funds.
"The Bendigo Bank contributed $250,000, which was 50 per cent of the seeding money required to get works on the track going," Grand Strzelecki Track president Michael Haynes, adding the other half was matched by the State Government.
"We are appreciative of their generosity, which will go towards helping maintain the track."
The Grand Strzelecki Track, which spans 110 kilometres, will officially be launched this weekend.
Bendigo Bank regional manager for East Gippsland Anthony Gillett said the financial institution was proud to be part of the great local iconic project.
"We see how fantastic it is for the local area for decades to come, and is a good instance of everyone coming together for a good cause following the bushfires," Mr Gillett said. "This project will bring great benefit to the region, by helping replace walking trails in the forest and bring the local economy to the next level."
The funding announcement was accompanied by the launch of the Grand Strzelecki Track trivia and photographic competition.
Launched by Grand Strzelecki Track project manager Alan Lewis, competitions have prizes worth $2000, including shopping vouchers to Latrobe and Wellington businesses and short-stay packages with local holiday service providers.
"These competitions are part of the (promotion of the opening of the track)," Mr Lewis said.
"The trivia (portion) is a relatively easy 20 questions about the track and the Strzelecki Ranges; entry forms are available at all Bendigo Bank branches, while for the photographic competition, photos can be uploaded to our Facebook page." Mr Lewis said winners of the competitions will be announced on the ABC Gippsland Morning Show on 9 May. The closing date for the entries are 8 May. For more information, visit
www.grandstrzeleckitrack.org.au