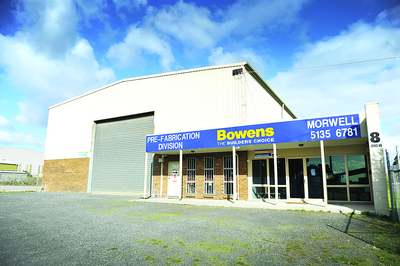 THE head of a 118 year-old timber supply chain has spoken out over Gippsland's "aggressive" construction market, after shutting down its Morwell branch recently.
The closure of Bowens Timber and Building Supplies last fortnight, which resulted in 11 local workers losing their jobs, came only two years after taking over the failed Capeview Timber and Trusses business, which closed after 20 years of operation.
Bowens general manager John Bowen said while the closure was "highly regretful", the businesses could not secure enough sales to local builders during a down turn in the construction industry.
Mr Bowen said the company had reduced employment across its 12 outlets and four prefabrication sites in metro and regional Victoria, but the Morwell branch was the only site that had to be closed.
"We took over a business that couldn't sustain itself – who was operating for approximately 20 years – and have given it our best shot," Mr Bowen said.
"But for too long we were delivering product back into Melbourne in the hope of gradually building up our sales in the local area.
"We had businesses lined up, however they weren't selling enough houses down here; we needed a house a day to keep our plant going, and we were getting no where near that." Mr Bowen said after poor sales coming out of Christmas and the loss of customer Kirway Constructions, he made a decision last fortnight to close, alerting the workforce on the same day.
He said apart from a couple of "discrepancies", all workers had been paid their entitlements, and were offered positions at the business' Dandenong location, which he said no one had taken up.
"I'm sure we've made mistakes, but we had the intentions to get it right; it cost us a hell of a lot of money to get to this point, and any closedown is a very expensive process," he said.