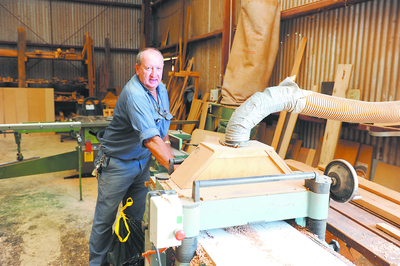 IF Latrobe City Council supports a motion to alleviate Traralgon Men's Shed expenses, a precedence could be set across the region, according to the mayor.
Last week, councillors voted in favour of investigating the feasibility of paying about $2800 of rental and power costs annually.
Latrobe City Mayor Ed Vermeulen said for the relative costs being investigated there were "some possibilities".
"But we must treat all Men's Sheds on the same basis," Cr Vermeulen said.
"I see it as a positive way forward for council to be involved in the community."
However, council will determine whether the one-off payment was feasible for Men's Sheds across the region.
"There is going to be an onus placed on councillors who want this to be funded, to say where this (funding) is going to come from," Cr Vermeulen said.
"There needs to be a balance of fiscal responsibility that comes with all these suggestions."
Traralgon Men's Shed, previously known as Work Focus, is facing closure if funding support is not received.
"We haven't been getting help from anywhere at this stage; we have been trying but are unlucky at attracting funding," Traralgon Men's Shed coordinator Colin Reid said.
"Unfortunately myself and the other chap Ron; we are hands-on and not the kind of person that can write out applications (for grants).
"We would be looking at closing down if we don't get funding soon, unfortunately it (Traralgon's Men's Shed) will cease to exist."
The funds received from retail garden furniture sold as renting their tools and equipment did not cover overhead costs, according to Mr Reid.
He said the shed provided "vital support" for members who may otherwise suffer from loneliness and depression.
"It would greatly affect them if they didn't have this facility to come to," Mr Reid said.
He said the aim of the Men's Shed to mentally support its members was being tainted by financial pressures.
"The whole idea is to come here, talk and relax," Mr Reid said.
"(Cocordinator) Ron and I are here full time but we are panicking about making the furniture to get it out to sell; we barely get the chance to stop and talk to the people."
The report into the feasibility of supporting the Traralgon Men's Shed will be presented to council at the next ordinary council meeting on 21 May.