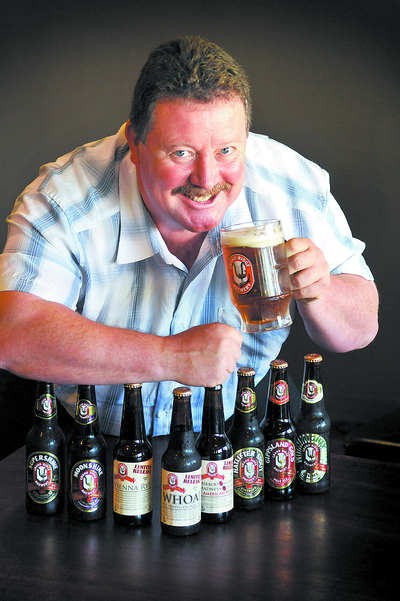 MIRBOO North's brewery has taken out another whirlwind victory, after being served 11 medals at the International Beer Awards last week.
Commenting on the brewery's year-in-year-out success on the competitive circuit, Grand Ridge Brewery founder Eric Walters said the continued accolades came down to its steadfast refusal to compromise on quality.
"Normally we only get one or two beers that come home strong, but to get eight different beers awarded, it's a real nice thing; it's been a real coup," Mr Walters said.
"While most microbreweries are all about quality, they typically will only age their beers for seven to ten days because they haven't got the capacity or space to hold them longer than that.
"Bottle (maturing) is a nice thing sometimes, but the beer can age very quickly that way; we actually make sure beers are in perfection in the brewery and we literally freeze that in time."
Landing silver medal in its category, the Wet Hopped Oatmeal Ale (WHOA) recipe came about after a spur of the moment decision became a stroke of brewcrafting genius.
"The deck out the back (of the brewery) looks out over forest where we grow our hops; we were picking hop flowers and dipping them straight into our beer, and it was sensational," Mr Walters said.
The brewery now picks fresh hops grown on-site and throws them straight into the brewing kettle for the special WHOA seasonal release each April.
Mr Walters said Mirboo North's superior water quality gave the brewery a formidable home ground advantage, and according to local folklore, Mirboo meant 'magical water'
"It's the high altitude of the town which makes it so clean, that's why I built here; the whole town is spring fed."
Speaking after the Good Beer Week in Melbourne earlier this month, which catered for the ever growing popularity of craft beers in mainstream markets, Mr Walters said it was time for Grand Ridge beer to step up and become Gippsland's unofficial beer.
"I've never pushed it locally before because I haven't had enough beer; Melbourne's been our key market, and I think in the city people have adopted the more gourmet culture," he said.
"But that has been happening massively in Gippsland now too, and it will continue to grow over the next three to five years.
"Now with more storage capacity, we'll be doubling production and getting more beers on Gippsland taps in venues."