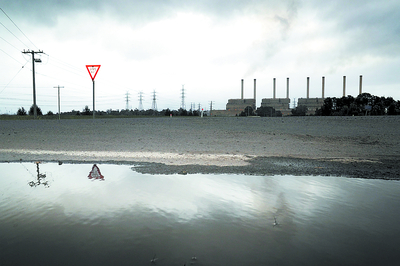 NEW carbon capture technology being trialled at Melbourne University is set to be applied on a larger scale at the Hazelwood Power station later this year.
The UNO MK3 carbon capture 'mini-plant', a Co-operative Research Centre for Greenhouse Gas Technologies (CO2CRC) project, has been described as part of "significant industrial trials of new carbon dioxide capture with the potential to substantially reduce the costs of carbon capture and storage (CCS)".
This week Melbourne University CO2CRC Research Fellow Dr Dimple Quyn told The Express the UNO MK3 technology could potentially reduce capture costs by 15 to 20 per cent which, at the power station level, could save millions of dollars a year.
Dr Quyn said the current trial, about half-way to completion, had seen a plant built to occupy two floors of Melbourne University's School of Engineering, requiring a hole to be cut through the floor of one level to accommodate it.
"Usually at a university the lab-scale trials are quite small but this is much, much larger than the average and the results will be used at a pilot plant now being built at the Hazelwood Power station," Dr Quyn said.
She said the plant, funded by Brown Coal Innovations Australia, was expected to be commissioned within the next few months.
It is understood the pilot plant is building on previous installations and will connect to the Hazelwood Power plant, with the power station hosting the trial and providing resource support where appropriate.
A Hazelwood Power spokesperson said the company was willing to "host these important research projects" which it saw as "vital to inform better understanding of these new technologies".
Dr Quyn said UNO MK3 was the first technology of its type to be trialled and, while patents restricted her ability to elaborate on the advantages it offered over other technologies, the research team had "definite" confidence in the findings so far.
She said the current technology had been a long while in development, with the "solvents team" working on the idea for about seven years.
The local pilot plant, once operational, is expected to be up to three times larger than the existing 'mini-plant' but with a capacity "much larger".