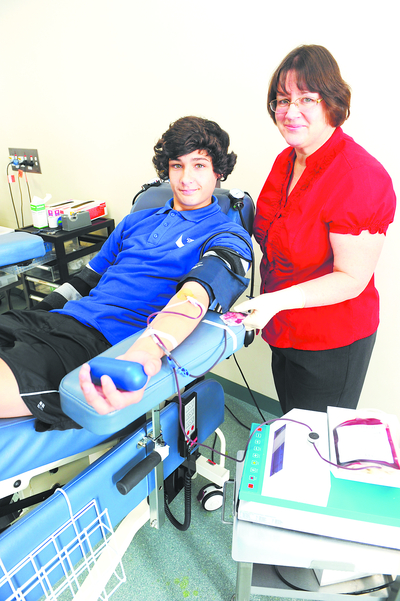 IT WAS a long wait for Newborough's Dylan Gatt to reach the legal age to give blood.
Despite being a little unsure of what lay ahead on the morning of 16 May, Dylan rolled up his sleeves to give 470 millilitres of blood for the first time.
"I've always wanted to help people, and this seemed like an easy way of doing more," Dylan said, adding he had been keen to donate since he was 14 years old.
"I don't need all this blood.
"I was a little bit nervous because it's my first time, but I won't be nervous next time."
The year 10 Lowanna College student, who turned 16 on Mother's Day, said his excitement about donating blood had influenced a handful of his friends to do the same once they reached the age of 16.
Registered nurse Anne De Bono, who patiently talked Dylan through the entire process, said it was not unusual for young people to come to the Traralgon Donor Centre once they turned 16 to give blood.
"Like Dylan, they are interested in helping people," Ms De Bono said.
"We've had a few school groups come in, and sometimes you have kids come in with their parents."
Ms De Bono said Dylan's contribution would be divided into plasma, platelets and red cells and given to as many as three different people.
"The blood will go to anyone in Victoria and Tasmania," she said.
Dylan's mother, Jane, said her son had always "had a big heart".