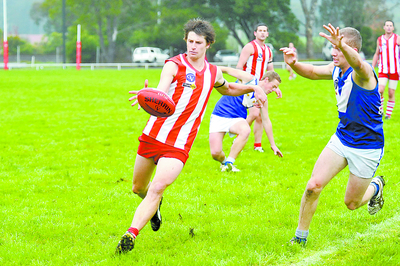 THIS weekend the regular season will be on hold as four Mid Gippsland Football League representative teams compete against the Alberton Football League at Meenyian this weekend.
It has been seven years since MGFL seniors have competed in an interleague match, and there will be senior and under 18 football as well as A grade and under 17 netball matches.
The senior football side has been training at Morwell East every Wednesday for the past four weeks under coach Dean Caldow.
Caldow is a former Moe and Morwell player, who also coached Moe and Newborough during his career.
According to Caldow, a list of 43 players was invited to train but many could not participate due to injuries or other reasons, leaving around 25 at training; however, Caldow is confident the side will be at full strength.
"I think there's three players that would probably be in our best 18 that aren't going to be available," Caldow said.
"Other than (the) three I think we've got our full strength side."
He said clubs were pushing players to get behind the interleague match because it provides players with opportunities, especially for the younger players.
"It's a really good opportunity for the younger guys to get noticed and to challenge themselves to see if they are up to the next level," Caldow said.
"As a player, I think it's a real challenge to see where you're at as a footballer."
Under 18s coach Rohan Bounds said training numbers had been excellent, and believed the league was putting forward its best junior players.
"All I can do is put the best side I think we've got together and see how we go," Bounds said.
"They're a good bunch of guys and there are some good quality players amongst them."
The boys were presented their jumpers after a short training session and dinner at Yallourn North on Wednesday.
Bounds and Caldow said players should be proud and treat it as an honour to play interleague football.
The under 18s will play at 12 noon and the seniors match will start at 2.15pm.
The Alberton Football Netball League is a southern Victorian league made up of 13 clubs, from Woodside to Yarram and is a higher rated league than MGFL.