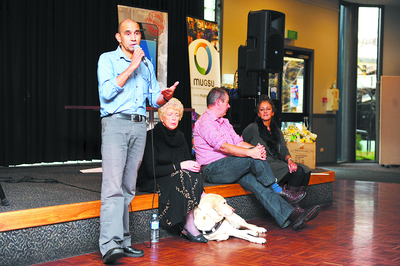 GIPPSLAND'S medical students were given a unique education experience aimed at equipping them with crucial skills by interacting with a guide dog.
Monash University Gippsland invited Guide Dogs Victoria for a second consecutive year, to speak to Bachelor of Medicine and Bachelor of Surgery (MBBS) students on Friday.
Guide Dogs Victoria member Joan Smith and her dog Benson were present at the session held at the university.
Ms Smith has been an active advocate for Guide Dogs Victoria as its public education coordinator.
As part of the course at the university, students were expected to learn how to cater to patients with a disability.
The program had previously attracted positive feedback from the students, according to MUG medical school academic Dr Margaret Simmons.
"Students participated in various activities, one where they're blindfolded…and really learn about ways to assist people with a disability," Dr Simmons said.
"A disability doesn't necessarily have to be vision impaired, but can include cognitive and intellectual disabilities.
"It enables them to walk a mile in the patient's shoes."
Dr Simmons said it was important to have knowledge and an understanding of the patient's needs, while getting them out of the classroom.
She added it also provided the wider community a glimpse of the different programs Monash undertook to cater to people with a disability.
"When a person is affected with a disability, they tend to become isolated," she said.
"This gives students the chance to interact with an organisation and learn about assisting people (with a disability) before they start to become isolated."