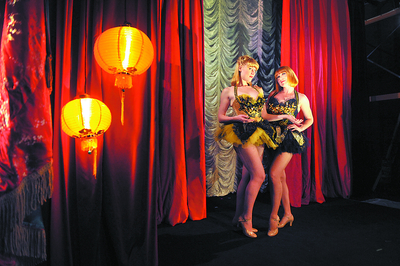 A SEDUCTIVE spectacle from the Finucane and Smith cabaret entourage left Latrobe Valley art lovers hypnotised on Thursday night.
The audience were dressed in their finest for the Caravan of Burlesque travelling emporium, which involved breasts and bottoms and required an open mind.
Director Moira Finucane described the performance as an intoxicating Ethiopian dance, which involved sultry songs, underdressed sirens, whip-cracking dames, Bollywood lovegods, sizzling jazz moves, backroom ballet and gothic divas.
The Performing Art Centre, Traralgon was transformed into a lavish "cultural-mashup" salon, with Parisian inspired golden curtains, Asian lanterns and velvet draped tables.
Spearheaded by a Regional Arts Victoria and VicHealth initiative to bring the show to regional Victoria, Ms Finucane said "the tyranny of distance had previously made the journey impossible".
"We had this idea that we would have a travelling show and be able to come (to regional towns) and leave nothing but feathers and fabulous memories," she said.
The show, part of a Creative Gippsland initiative, toured the region to sell-out shows, with its finale held in Traralgon last week.
"My work references everything from the lives of the saints to the extraordinary work of fine arts, fairytales, serial dream stakes and popular culture," Ms Finucane said.
Performers included Paul Cordeiro, Anna Lumb, Holly Durant, Moira Finucane, Maude Davey and Sosina Wogayehu who "cherished and challenged the audience".
"Caravan of Burlesque shows that we are not all the same; it says we are all different, and isn't that beautiful; we should appreciate it," she said.
Many audience members found the show "provocative", while others were amazed.
Ms Finucane said no reactions were ever the same.
"As many different audiences we have had and the many different responses we get to our work, (audiences) all respond to the humanity of the work," she said.
"Audiences have always been excited by the conversation about humanity, which is symbolic in this fairytale and dreamlike representation."
Ms Finucane said she moulded her work around "taking care of audiences", which enabled her to "take them anywhere".