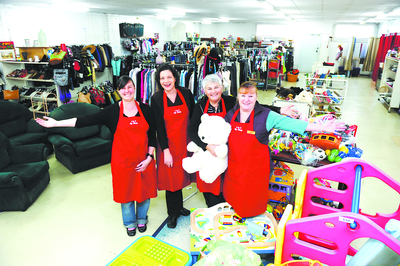 MENTAL health nurses, Nina Brooks and Jenny Jackson, had a dream to combine their passion for shopping to make a difference.
One month later, they opened Newborough's One In Five opportunity shop to the public, with the aim of raising money for mental health support services in Victoria.
Stemming from a passion for scavenging through op shops, Ms Brooks said they wanted to help the mental health organisations which struggle to secure funding for their services.
"We chose the name One in Five because it reflects the current statistics which say one person in five will experience mental illness at some stage of their life," Ms Brooks said.
"There is really limited funding for mental health so we decided to combine our passions, op shopping and supporting mental health."
Funds raised through the sale of quality second-hand goods, supports single-father support group Dads In Distress and Latrobe Regional Hospital crisis ward patients.
"Our long-term goal is to run a rehabilitation program for people with mental illness, through the shop," Ms Brooks said.
"We want people who have a mental illness, to come into the shop as volunteers and learn life skills like social and communication skills, in an environment where we have a background and understanding of the illness so we can help."
The owners also hoped to support charities Beyond Blue and SANE Australia. Co-owners Ms Brooks and Ms Jackson are inviting the public to the shop to help support their charity.
They are asking for furniture and quality clothing donations as well as people interested in volunteering.
For more information, visit One In Five at 44 Monash Road, Newborough.