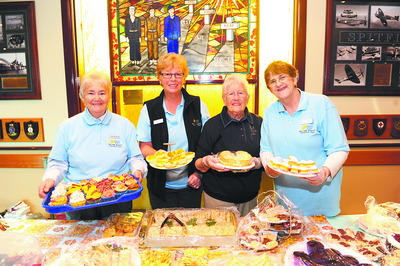 NEW cancer statistics for the Latrobe Valley show 884 people were diagnosed with cancer, and 360 died, from 2008 to 2010.
The data was released by Cancer Council Victoria last week, which saw a number of local Cancer Council units raise funds through the annual Biggest Morning Tea initiative.
The figures showed the Morwell district, which covers the Latrobe Valley, recorded 884 diagnoses between 2008 and 2010, of which 498 were men and 386 were women.
Statistics showed the most "at risk" were those aged between 60 and 74 years, with this age category recording 349 diagnoses.
In the 25 to 59 years category, 265 people were diagnosed with cancer and in the 75 years and over the category, there were 266 diagnoses. Leading cancers amongst males were prostate (165) and bowel (58) followed by lung (51), melanoma (31), lymphoma (28) and leukaemia (9).
In women, bowel cancer had the most number of diagnoses (63), followed by breast (101) and lung (42), melanoma (22) and leukaemia (11). Cancer deaths in the Latrobe Valley, for the same period, totalled 358 – 204 males and 154 females.
The age category of 60 to 74 year olds saw more deaths than any other, with 129 people dying.
There were 63 deaths in the 25 to 59 years category and 166 deaths in the 75-plus age group.
Lung cancer was the leading killer of both sexes, killing 48 men and 27 women. For men diagnosed with cancer, this was followed by bowel and prostate cancers while breast cancer was the second biggest killer of women with the disease.
According to the data, there were no cancer diagnoses recorded in children under the age of 15 years in the Latrobe Valley during that period.
Encouraging local businesses, organisations, community groups and individuals to host a local Biggest Morning Tea event any time in May or June, State Member for Eastern Victoria Philip Davis said the events showed support to "those fighting cancer, or the families left behind".
"These people have families, friends, jobs and businesses and make a valuable contribution to our communities," Mr Davis said.
Meanwhile the Traralgon unit of Cancer Council Victoria raised $1500 from its Biggest Morning Tea at the Traralgon Returned and Services League last week, with about 90 people in attendance.
Moe and District Cancer Council voluntary committee member Cynthia Rawlings said the Biggest Morning Tea event it hosted at the Moe RSL last week had raised in excess of $1200. The committee served more than 100 'cuppas' at their event.