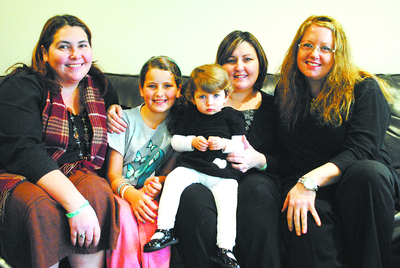 CHILDBIRTH in itself is an experience for any woman, but to be told she had a rare form of cancer just an hour before her daughter's birth made the experience utterly surreal for Traralgon mother Melinda Monaghan.
In a frank interview with The Express recently, Melinda talked about the emotional rollercoaster she and her family had been on since; within a week in late 2010, the 36 year-old was told she had cancer, had her daughter, and had a biopsy.
"Before I gave birth, the obstetrician said my cervix felt 'strange', but I was told not to worry," Melinda said.
"Just as they were about to break my water to induce birth, the doctor came running in and said I couldn't do that because it would make things worse."
Five weeks after the delivery, Melinda underwent another biopsy and was told days later she had small cell cervical cancer.
"If I hadn't had my baby, they wouldn't have found it because there are no symptoms, and doesn't show up on pap tests; it cannot be prevented by the cervical cancer vaccine and is not related to HPV (human papillomavirus)," she said.
Melinda said the days that followed saw "a lot of tears and not much sleep".
"I couldn't look at my kids; I kept thinking, 'what if I'm no longer here?'," she said, her voice breaking.
"I didn't even know if I would see Makinley (the youngest) learn how to crawl, and my 11 year-old daughter Ashleah will be a teenager soon…she needs a mum.
"There is nobody else for my husband and kids; I have to be here."
With chemotherapy, Melinda said the tumour had been "killed" but SCCC was so "sneaky", it had an 80 per cent chance of coming back.
"Not only do I have this rare cancer, but I'm also sensitive to radiation; the treatments have given me avascular necrosis (bone death caused by poor blood supply) in my hips.
"I'll need hip surgery and maybe a replacement; I can't do things like push a pram or shopping trolley, or drive."
The chemotherapy also caused damage to Melinda's short-term memory and cognitive abilities.
Wistfully, she talked about once being top of her class at Monash University, and how watching movies or reading books now is a challenge.
"By the time I reach the end of a page, I forget what I read at the start," she said.
"I think the effects of this will stay forever; it's amazing how it has affected everything."
However, Melinda is determined to do what she can to raise the profile of the rare cancer.
"I didn't talk about it much at first, but I want to go beyond myself and talk about it," she said, adding approximately 100 women worldwide were diagnosed with SCCC a year.
"You have a better chance of being hit by a bus or winning TattsLotto than getting this type of cancer," she joked.
Through it all, Melinda's husband Tom had taken it in his stride.
"He has been the best dad and husband; he's done everything," she said.
Melinda worries about her four children, Joshua, aged 13 years, Ashleah, six year-old Baylea and Makinley.
"It's been very hard for them; they've had to give up a lot because money is tight," she said.
"It's a struggle with the mortgage, but I don't want my family to lose the house."
Melinda's friend Rae Riley, who together with Alison Gridley and a few others set up Mel's Mates Mighty Mission, a group supporting Melinda and her family, said they were determined to raise money to help the family keep their house.
"To move will be devastating; the last thing the kids need is to lose their home," Rae said, adding Melinda also faced significant hurdles in withdrawing her superannuation funds despite being declared unable to work.
Now, all Melinda and her loved ones can do is wait.
"I've had all the treatment I can here; there is no way to tell if the cancer is back," she said.
Mel's Mates Mighty Mission will be holding a fundraiser to support Melinda and her family, on 16 June at the Traralgon Golf Club from 7.30pm, with auctions, raffles, games and door prizes.
For more information, visit www.melsmatesmightymission.webs.com or visit their Facebook page, or phone Rae for ticket enquiries on
0431 417 017.