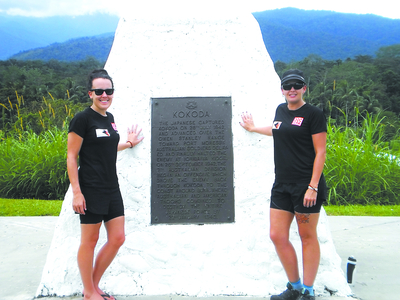 THE gruelling eight-day trek through the Papua New Guinean jungle on the Kokoda Trail has brought Traralgon friends Rebecca Crick and Kate Duxbury closer, despite the challenges faced and tears shed along the way.
The duo were walking the trail timed to finish on Anzac Day, in memory of Ms Crick's late father, George, a former Country Fire Authority volunteer and Vietnam War veteran who committed suicide a year ago due to depression.
They had received "overwhelming" community support, and said they had raised almost $7000 for the Black Dog Institute, which provides help and offers expertise in mood disorders.
"The trek was hard in some parts and all right in others, but it was good to finish," Ms Crick said.
"We finished on schedule, and on Anzac Day, as you could see the sun rising over the white headstones, it was very overwhelming.
"Before the service started, several people had already started crying."
The duo were part of a team of 13 Australians, many from Victoria, undertaking the eight-day trek.
Along the way, they walked along narrow ledges, experienced earthquake tremors and witnessed a fellow trekker being airlifted out.
Ms Duxbury was also ill during the first three days of their trek, where they walked up to eight hours each day.
Remarkably, the duo also encountered a man from Victoria walking in the other direction who recognised them from their Facebook page, Bec and Kate's Anzac Kokoda Trek 2012.
"He gave us a hand and told us what we were doing was awesome, and that was a good little push for us," Ms Duxbury said.
"Thinking about the support and encouragement from people back home was definitely a good motivator."
"Everyone had their reasons for walking the trail; people came up to me and said they were thinking of me along the way," Ms Crick said.
"We would love to go back with a group of people and share the experience."
In terms of how the experience has changed them, Ms Duxbury said it helped them rethink their priorities in life.
"You think about what you can get caught up in; it help put things in perspective," she said.
"We would definitely go again together; we knew when to give the other a push and when to back off, and it's just made us stronger."
Those interested in supporting Ms Duxbury and Ms Crick can still donate to their Everday Hero page at www.everydayhero.com.au/hero_pages/view_posts/kokodaanzactrek
For help or information visit beyondblue.org.au, phone Suicide Helpline Victoria on
1300 651 251, or Lifeline on
131 114.