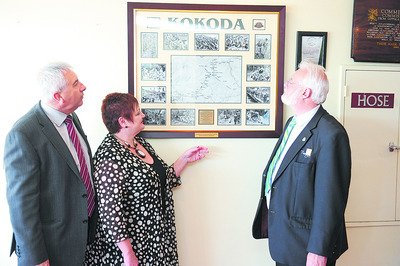 THE epic battle between Japanese and Australian forces during World War II has been remembered in a photographic display mounted in the Traralgon Returned and Services League foyer.
Donated by Traralgon's Bob and Donna Faulkner, the display showcases the heroic battle on the Kokoda Trail, Papua New Guinea in 1942.
After purchasing the piece of history at an auction at Parliament House, Melbourne, Mr Faulkner said his intentions were to hang the piece in his office.
"I wanted something inspiring in my office, something that spoke about persistence, determination and real true grit, and it certainly does it," he said.
"But I found it quite powerful and overwhelming, it was too much for me; I thought it was selfish of me to keep so I donated it to the RSL."
In the short time the piece hung in Mr Faulkner's WorkSolutions office, he said everyone who saw the photographs were affected "in one way or another".
This year marks the 70th anniversary of the Kokoda Trail battle, and Mr Faulkner said he wanted more people to absorb the history of the "huge story".
The montage of 13 photographs which frames a map of the Kokoda Trail, was recently donated to the Traralgon RSL and president Jim Saddington said it was "an amazing piece of pictorial history".
"It has been put together for anyone who doesn't understand the pivotal role in the battle for Australia in the WWII," Mr Saddington said.
"There have been a few people that have been amazed about the amount of detail and the photographs that are in it.
"We have seen things before, but to have that amount of photos and the actual map makes it a bit more special."
He said the memorabilia displayed rich Australian military history.
"People can look at it and understand where our history has come from; that should never be forgotten," Mr Saddington said.
"It is a piece like this that keeps history in the public eye."
The Kokoda Trail display is in the Traralgon RSL foyer, at 109 to 116 Grey Street, Traralgon.